We have updated
Discovery Pro
to 6.6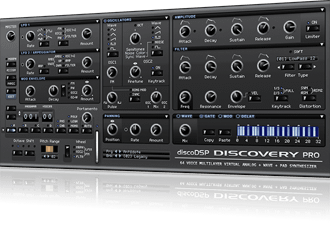 What's new
6.6
Mac (x32/x64) / Windows (x32/x64) VST3 support.
Multi-channel support.
Mac standalone.
Added 1.5x GUI size for Retina displays.
GUI fixes and speed up by disabling image caching.
6.5.1
Fixed Cubase issues.
Updated framework for better stability and performance.
OS X: Compiled with Xcode 7.3. OS X 10.6 or higher is required.
6.5.0
Added Retina GUI support for Hi-DPI displays including minor enhancements.
Added 15 new banks and thousands of new waveforms. 10 banks reworked.
Added License.dat copy protection.
Added EDIT > Config > MIDI Out option.
Added flat popup active option color.
Fixed hanging notes issue.
Fixed Linux file menu issues.
Fixed Linux bank import.
Increased performance and stability.
Data folder location changed to Documents > discoDSP > Discovery Pro.
OS X: Compiled with Xcode 6.4. OS X 10.6 or higher is required.
6.5 is a paid update and is available at discoDSP Members Area for previous customers. Discovery customers can cross-grade too.