And here we are:
The CS80 by kpr for Alesis Fusion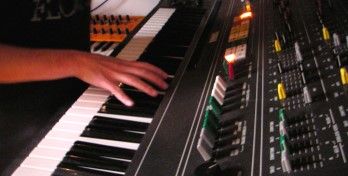 One of the real Vintage Keys legends: The famous
Yamaha CS80
. An instrument with a lot of character and finally available now as sample collection with Presets for the Alesis Fusion. Warmest analog pads, basses and typical layer sounds created by mixing Tone I and II on the original instrument.
To get an impression you can listen to the audio track. Those are single Presets and they are played one after the other with just two hands in real time, no overdubs, just using the controllers:
Fusion TheCS80 by kpr Audio Track
The 140 MB sample library provides 18 carefully programmed and multisampled instruments, all of them absolutely typical for the CS80. Each sound can be modified easily with the directly accessable Fusion Controllers like the Knobs and Aftertouch and many of them are also even enhanced with the built-in effects sections.
Although the CS80 provides polyphonic Aftertouch and the Fusion does not, it's possible to recreate original CS80 features with the Fusion's Controller options though. Here is the standardized Controller assignment we did for this Fusion sample library:
Control Knob 1: Attack + Release
Control Knob 2: OSC 2 Frequency, max. is +1 octave
Control Knob 3: Main Filter Cutoff
Control Knob 4: Effect Intensity
S1: Insert Effect On
S2: Transpose +1 octave
T1: Portamento On
T2: Release Time xxl long
T3: Vibrato Speed fast On
T4: Bus 2 Effect Intensity +
Aftertouch: Main Filter Cutoff Control
Mod Wheel: Vibrato Intensity
Pitch Bend: +/-2 semitones
All this allows to simulate the CS80's timbre control with the Fusion's Controller options.
There are over 70 Program Presets ready-to-use and the first 10 even provide pre-setted Arpeggios. Just push the Arp button and you will get those typical "Vangelis" lines he often used for his famous songs. You can shape the Arpeggios by turning the Control Knobs and using the Aftertouch and Modulation Wheel and T- and W Buttons too!
The CS80
by kpr is available right away as download product, optional CD.
Product page:
Fusion The CS80 by kpr
-----------------------------------------
The versions for NI Kontakt and ManyOne Deluxe VST are already in the making and available in a few days. Watch out for the news announcement.
-----------------------------------------
Best regards
Julia