Lap Steel Guitar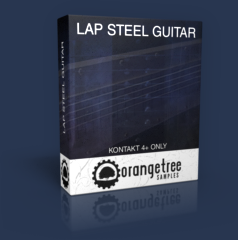 Lap steel guitars are very flexible and versatile instruments, and make a great addition to a variety of musical styles. As well as easily fitting in folk, country, and pop productions, they also sound great with distortion for rock and blues tunes. The Orange Tree Samples Lap Steel Guitar sample library features around 1 GB of high quality samples, with three dynamics and four round-robin samples for each chromatically-sampled string--giving you a total of over 2,000 samples.
Audio demo:
Audio Demo #1: Gray Patchwork
Here are a few notable features:
* Onboard Effects
Lap Steel Guitar includes five stereo cabinet impulses as well as spring reverb, tremolo, chorus, and much more.
* Timbre-correct slides
The timbre-correct slides give you much more realism when sliding, as opposed to conventional methods of pitch bending. These slides will also realistically re-excite the strings, lengthening the sustain.
* Advanced Bending Control
Lap Steel Guitar not only gives you the ability to bend strings separately, but also allows you to set the bend range to conform to a specific key/scale.
* Modeled Vibrato
The vibrato in Lap Steel Guitar isn't a simple LFO, but is modeled after real lap steel guitar vibrato, while still giving you speed and depth controls.
* External presets
All the effects and performance settings can be stored in external preset files. That means that you don't have to reload the entire library to audition different presets. It also means that the presets can be easily shared with other Lap Steel Guitar users.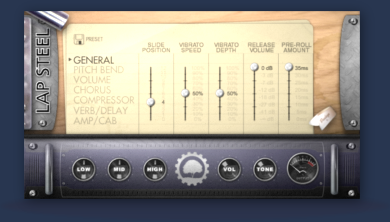 Price:
We're currently having a $30 OFF introduction sale on Lap Steel Guitar, so you can pick up your copy of the new Lap Steel Guitar today for $49 (regularly $79)! This discount offer will expire on July 31th.
Format:
Due to the extensive scripting, this sample library is available in Kontakt 4+ format only. Lap Steel Guitar requires the full retail version of Kontakt, so it is not compatible with the free Kontakt Player.
Visit the product page here:
Lap Steel Guitar sample library for Kontakt
Or you can
click here to order Lap Steel Guitar directly