This thread is for MenuMagic V2 beta news, support, etc.
MenuMagic is the plug-in management tool specially designed to work with Cakewalk's Sonar DAW. Its powerful toolset enables you to analyze, fix issues and organize your plug-ins (VST, VST3, DX, 32-bit, 64-bit) into menus quickly and easily.
Click to see a list of MenuMagic Features
...Steven
Latest thread:
March 1st, 2015
March 1st, 2015 Newsletter Issue# 20150301
★ MenuMagic v2 beta update v1.9.7.0 has been released!
This update is free to registered users – use your personal download link to download the new v2 beta.
Major Changes in MenuMagic v2 (beta build 1.9.7.0)
Changes:
Major Bug fixes
• Where having pre Sonar 2015 and pre2015 versions could in some circumstances cause MenuMagic to crash if you were in MenuMagic's Settings/Options tab and went into the VST Scanner page or PI Menu Layouts page.
• Where the VST3 filter controls would be enabled for older Sonar versions if Sonar 2015 was installed.
Updated - MenuMagic Tray Icon App v2.1
Included with MenuMagic is a new tiny app that sleeps in your icon tray waiting to wake up and do your bidding. Designed to use minimal memory & CPU it launches the task you choose then goes back to its minimal state.
Some images for you...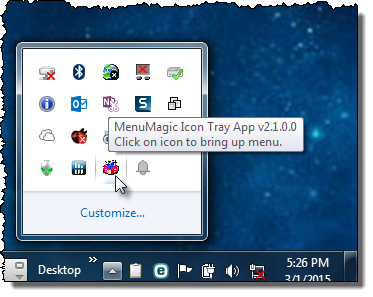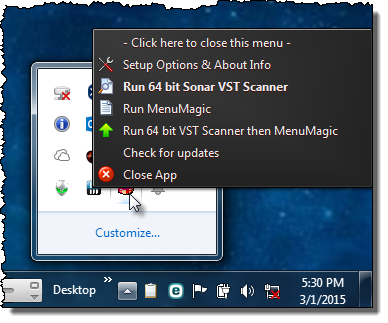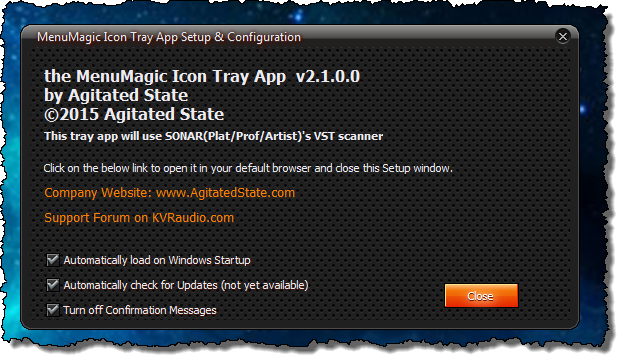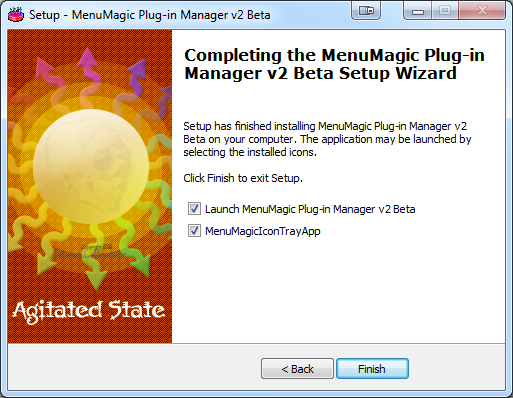 Best regards,
…Steven
Currently MenuMagic is discounted 50% until v2 is released!
$24.95
regular price $49.95
MenuMagic Purchase link
Check it out - money back guarantee. See purchase link for details.
Buy now and you will receive the latest version of MenuMagic, access to beta versions and receive a free upgrade to version 2 when it is released.