In the past the
Keyboard Glockenspiel
has been used by many classical composers. It consists of a glockenspiel operated by a piano keyboard. It has a lovely tone and delicate sound but now it has been almost completely replaced by the celesta. We discovered an old keyboard glockenspiel in a dusty attic. Even if we don't know the exact date, due to the lack of labels and signatures, this little gem is probably more than
a century old
.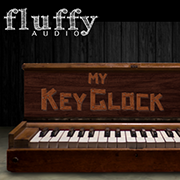 We deeply sampled this instrument and we also created lots of sound design patches such as
pads, soundscapes and hybrid instruments
.
The beauty of its untuned harmonics and the delicacy of its sound make it the perfect product to promote
ACUMA
, a
non-profit
association which helps poor and
marginalized children and families
in Italy and Romania.
100% of the revenues will be donated to ACUMA
and that's the reason we choose to keep My KeyGlock's price so low, to enable everybody to participate in this project.
My KeyGlock features:
520 mb of NCW compressed sample pool
20 different nki patches
744 samples
6 velocity layers
3x Round Robin
Powerful Arpeggiator section with Humanize and Swing controls
Effects Section
Equalizer, Reverb with 17 custom IRs
Pads, Soundscapes and FX
Full Velocity control
Price:
11 Euro / 14.90 $
More info on
My KeyGlock product page
!
http://soundcloud.com/fluffyaudio/sets/my-keyglock