discoDSP Vertigo R3.2 has been released for Mac + PC. Vertigo is a 256 oscillators additive synth with resynthesis and sound morphing. Imports WAV audio and PNG or BMP images. It has a very accurate recreation of complex musical phrases, drumloops, speech and simple tones. Demo version includes 128 presets and it is available as AudioUnits, VST and RTAS for Mac Intel and VST and RTAS for Windows.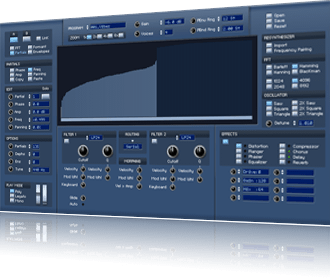 What's new
— Fixed Modulation Wheel to Morph settings.
Vertigo costs 75 € or 99 USD (VAT included where applicable) for single platform and 90 € or 119 USD for Mac + PC.
Download Mac demo
Download Windows demo
PDF Manual
Previous Vertigo customers can update to R3.2 logging to their account.
Thanks,
George.