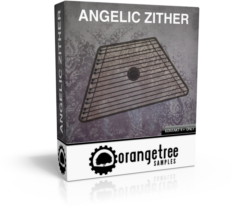 Angelic Zither
is a handmade 15-string, pre-80's zither from the Republic of Belarus (a little west of Russia). The zither's strings are tuned diatonically in the key of G, but the samples are stretched to cover the instrument's range chromatically. Although it only spans two octaves (stretched to 4 octaves total), this zither has a gorgeous, magical tone.
We sampled the zither using a close dynamic mic and a pair of small diaphragm condenser mics as a stereo overhead, and you can blend between these two signals to get the tone you're after. The sample library has 3 dynamics, from soft, delicate notes to loud, resonant plucking, each with 3 alternating round-robin samples. The release samples have three round-robins and three dynamics as well, capturing the slight buzzing sound that the string makes when muted.

Key Features:
- 685 MB 24-bit 44.1khz samples.
- 3 dynamic layers, 3x round-robin.
- Separate close mono mic and stereo far mic positions.
- Duration dependent release samples.
Audio demos:
Audio Demo #1: Deep Roots
Audio Demo #2: Petrichor
Price:
We're currently having a $10 OFF introduction sale on
Angelic Zither
, so you can pick up your copy today for $14.95 (regularly $24.95)! This discount offer will expire on July 31st.
Format:
Due to the extensive scripting, this sample library is available in Kontakt 4+ format only. It requires the full retail version of Kontakt, so it is not compatible with the free Kontakt Player.
Visit the product page here:
Angelic Zither

sample library for Kontakt
Or you can
click here to order

Angelic Zither

directly