Loopscape Vinyl
from
Rhythmic Robot
is a strange, organic synthesiser based around looping oscillators sampled from real vinyl disc recordings. It's based on one of our favourite synths,
Loopscape
, which used multiple tape loops of different lengths running concurrently to create never-repeating, endlessly evolving washes of sound.
Loopscape Vinyl
does the same trick, but instead of wow, flutter and oxide as your starting points, you get hiss, crackle, and platter warp instead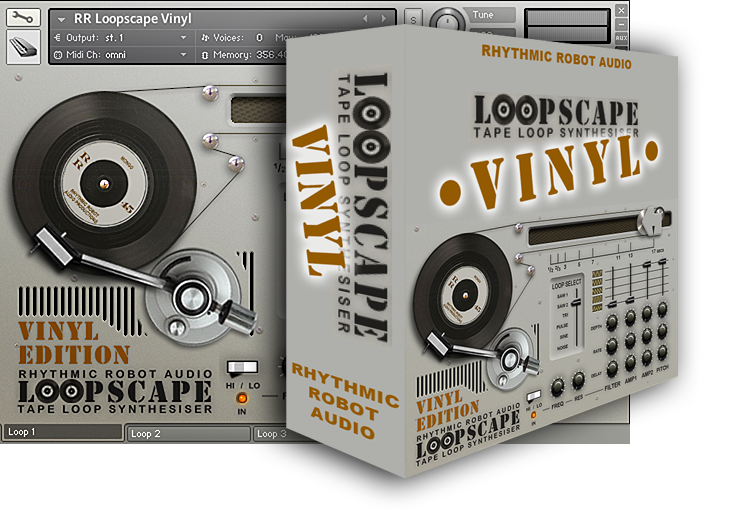 Loopscape Vinyl
was created from a series of custom-pressed vinyl LPs, each of which we filled with analogue waveforms (saw, square, sine and so on). These LPs were then beaten, scratched and abused to simulate years of wear, and the resulting waveforms were sampled to form the core of the synthesiser... so clean, pristine audio is a nonstarter with this instrument
Even the "Noise" waveform is entirely vinyl in origin: we made it by scraping the stylus along the edge of a Bob Dylan LP (ouch!)
Three individual vinyl waves, of between 0.3 and 17 seconds in length, can be set looping away independently of each other; mixed; filtered; and effected by a host of complex LFOs to add even more variation and movement to the sound. Hold down one key and the tone you hear won't repeat for
thousands of years
(seriously... we did the math on this!
) The result is a rich, warm, constantly-shifting analogue tone with the unmistakeable character of old vinyl recordings running through it. It sounds as if an Optigan has been gene-spliced with a Mellotron and then had its brain transplanted into a Jupiter 8... kind of
It excels at crusty, dusty pads, vintage-style synthscapes, and sound design with a crackly, needle-in-a-groove feel, though (as the audio demos show) it can turn its hand to keys, basses and leads, too.
More information, plus audio demos and a cool video demo showing
Loopscape Vinyl
in action, are all here:
http://www.rhythmicrobot.com/page0/page15/page37/index.html
Best of all, both
Loopscape Vinyl
and
the original
Loopscape
are on special offer, so you can buy both and get the same introductory discount twice. They sound fantastic when layered and combined, so this felt like a natural deal to offer
They currently cost
£29.95 each
(normal price £34.95) and require Kontakt 4.2.3 or higher to run. The deal will run for a month or so, unless we forget. Which we often seem to do
Happy music making!

Best wishes,

The Professor (and Mongo)