Lautmalerei V2.0 update
We just released the
Lautmalerei V2.0 update
, the great collection of Orchestral Wild Takes.
Now the content is upgraded with new orchestral phrases and scenes as well as stunning effects. Get a own impression by listening to the also newly done audio tracks:
Lautmalerei V2.0 Track #1
Lautmalerei V2.0 Track #2
Lautmalerei V2.0
is a 1.1 GB sample library with over 650 orchestral scenes and effects and owners of the previous Volume 1, 2 and 3 bundle can update to the new Version 2.0 free of charge.
The entire orchestra as sonic-drawing unit - perfect for every kind of cinematic music style. Use it as handy tool for large movie soundtrack production or even weird computer animation. Lautmalerei underscores, punctuates and emphasize each visual scene.
We recorded the scenes, phrases and hits with three different orchestras in three concert halls. Long and dynamic and evolving tone structures up to 30 seconds length and even more. But also short accents, orchestral hits, swells and slides. Natural acoustic of the original concert halls, not replacable with electronic reverb simulations.
With this sample library you get access to legato chords in decent length up to 30 seconds and even longer, staccato lines, cluster, swells and counterrotating soundscapes. Thanks to a comprehensive documentation PDF you get a decent written description at a glance. No time consuming search for specific phrases and runs. Many samples are provided in several root keys, no need for any time stretching or compression, but of course this option is a extra benefit (depends on your sampleplayer).
Also available:
Lautmalerei Volume 1
, the perfect entry into the sonic world of those Orchestral Wild Takes.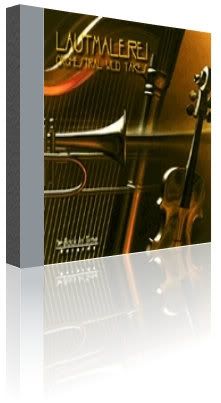 For only Euro 49.00
you have access to 190 orchestral phrases and scenes plus special sound effects like orchestra hits, horn riffs, prepared piano.
Lautmalerei Volume 1 Track #1
All details on the product page here
http://www.backintimerecords.de/bitr011.htm
Best regards
Julia