I'll post about the development and new beta releases of
Spiral
here.
The release of August 16th was the first public release.
The release of August 27th adds the following:
-A pan gradient viewing thing (the thing that looks like an absorption spectrum, the rainbow with the black bars). Helps you visualise the gradient, the windowing you can apply to it, the black bands over it show you where in pan most of the stuff is (helps you tremendously when positioning the pan window to black out parts of the pan). Also it shows you in a pretty precise way what is globally happening in pan, which might be interesting, like in some cases I've found out an effect on drums was rapid pan going from left to right.
-The harmonics overlay, which is the black and white dots you see. The screenshot is a pretty good example, it's a chord (the first chord of David Axelrod's The Edge), using the harmonics overlay we see all the harmonics belonging to the D2, and we can deduce what else there is (besides D2 seems there is a F3, E4, G4 and C5). It works simply by clicking on the display exactly where you think the note starts, and as long as you hold the mouse button down it follows your cursor. The harmonics overlay display persists until you click outside of the visualisation area, but not on the knobs, so you can tweak some knobs and still have the overlay.
-The "Key" knob (couldn't think of a better label for what it does). It allows you to rotate the visualisation so that you might have another note than C on top. So for example if you're analysing something in E minor, you can put E on top, and you know you'll always find your notes at 12 o'clock, 2, 3, 5, 7, 8 and 10 o'clock. The left half of that knob does something else, instead of rotating the display it changes the writing on the circular frame to chromatic integer notation, something I always wanted to have but which is probably not as great as rotating the whole thing to have the key on top.
The release of January 7th adds a playback for recorded sounds which is either time-stretched or played back normally at the normal rate.
I'd like some feedback, mostly on the harmonics overlay, how it looks and how well it works. The black and white circle thing was kinda random but I guess it does the job. And I was wondering if it would be a good idea to be able to have several such overlays at once to keep track of everything that's going on (like when trying to resolve my 5 note chord) and make sure nothing's been left out.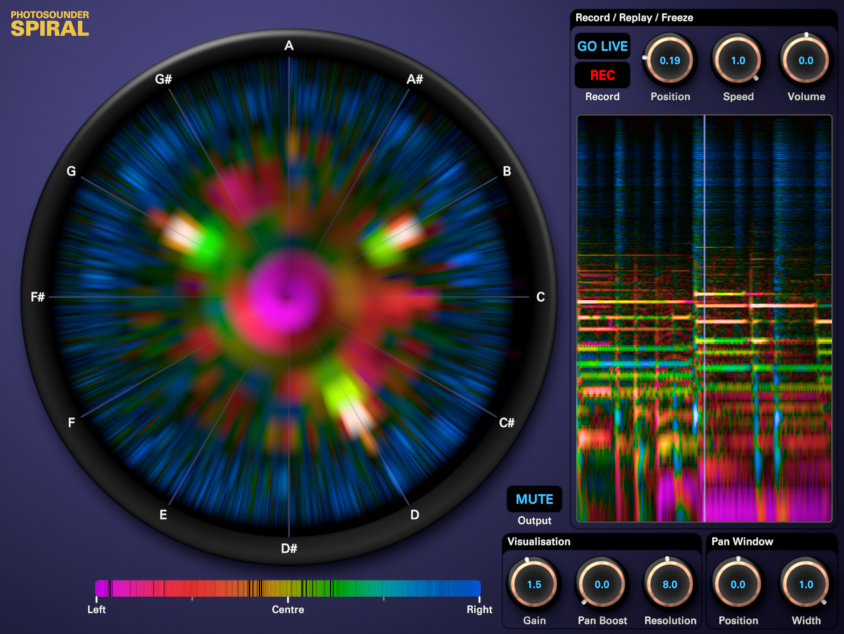 http://photosounder.com/spiral/