I trying to learn DSP, but I have a problem getting through digital signal decomposition. I thought perhaps I could hear some friendly nudges in the right direction here. It's not advanced. I'm just a bit stuck, I think.
I'm learning DSP, to hopefully be able to write my own EQ and distortions (my dream ones, whose properties I already tested and got mapped out). I'm no school-kid trying to cheat exams or something.
I'm using 'The Scientist and Engineer's Guide to Digital Signal Processing' by Steven W. Smith, available online (
http://www.dspguide.com
). The chapter I'm on (and referring to) is Chapter 5, common decompositions. (
http://www.dspguide.com/ch5/7.htm
)
I guess my problem is I do not understand how a continuous wave can be decomposed into the waveforms that are demonstrated.
For example, I do understand this example ..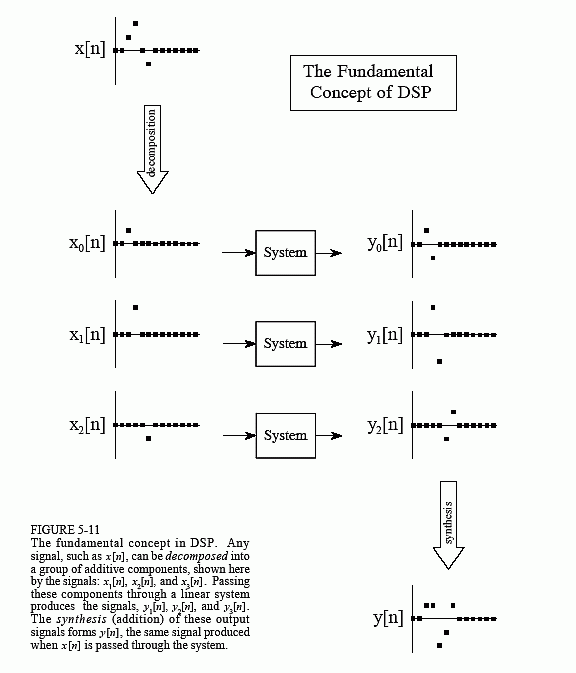 .. that adding all three y0[n]+y1[n]+y2[n] points together will result in the waveform to the low right in the graphic (x[n]).
But then decomposition schemes like odd/even and FFT are covered in the text, and I can no longer understand how the x[n] waveform can be decomposed to the waveforms illustrated in the pics (5-14), not by reading the text or looking at the pics.
Maybe I'm asking the wrong question here, but my spontaneous question to this is .. What kind of filtering process is be used, to disperse the data in x[n] into xe[n] and xo[n]? (illustration 5-14)
I can't even imagine adding xe[n] and xo[n] together will produce the original x[n] wave (which is a requirement of a linear system). Will it?
Thank you kindly, from a striving newbie