The Introductory Group Buy was very successful and reached 10 bonus products, thanks to everyone who took part and made it a success! Although the Group Buy has ended, the opportunity to get Cassetto plus 10 Free Products has been extended for a few weeks, it provides a great introduction to what HGS is all about.
Once you have bought Cassetto you can Select your bonus products
select your bonus products here
.
*

Get all 11 bonus products + Cassetto right now for just $14.99.


* Here is the list of available Choices.
* All products are NFR (Not for Resale)
* VST Instruments are now available as choices by request, but bear in mind they are 32-bit and for Windows only.
Get the Offer here
About Cassetto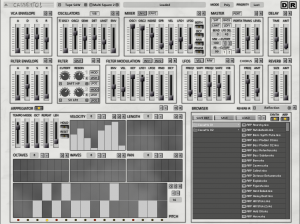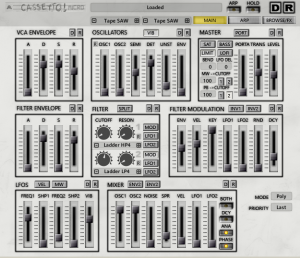 The idea behind Cassetto was to create a synthesizer which has an old and slightly faulty sound as well as a fairly fixed yet interesting architecture. The end result is a synth with it's own character and capable of some very unique tones. Although Kontakt is often used for complex samples, Cassetto uses sampled oscillators so that it is a true synthesizer and all sounds are constructed in the same way as any other subtractive synth, it comes with 200 presets with more to come, however it is also a synth that invites you to make your own.
The Process
Firstly, I chose the Elektron Analogue Four for the Oscillators as it has a nice selection of strong analog waveforms. Each of the Raw Waveforms was then recorded note by note over 4 octaves onto a very old and well worn cassette. I have owned this cassette since at least 1987 as it had me playing guitar badly around that time, which was recorded over a Pet Shop Boys album funnily enough. It was the 3rd cassette I tried and had the most dropouts which is what I was looking for. This is the Cassette: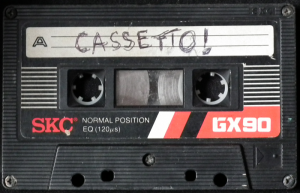 I had been looking for a suitable cassette deck for this project for a long while, and a friend came up with this one (JVC CD-1635 MK II) which is actually a really nice machine after bit of de-oxit, I'd already tried a couple of others with auto gain inputs which was a bit too extreme, I was after subtlety. Here is what it looks like (you can see the cassetto! cassette if you look closely).
These were then recorded into the computer through a focusrite OctoPre and each 4 second sample was looped manually at different lengths to provide the multi-sampled oscillators. I was actually surprised how lovely they sounded once tamed by Filters. This is what some of the raw unfiltered waveforms sound like with random start time (phase).
It also occurred to me that it might be interesting to use some single cycle loops from clean recordings of the A4, which would add a whole other dimension to the sound possibilities, so I did this for 5 of them, and they sounded good and added a nice contrast to the tape Oscillators. I then finished off the oscillators by creating some detuned and mixed groups of the single cycles. I also tried to be a bit imprecise with the looping of the single cycles to give them a slightly detuned broken oscillator sound, although it is subtle.
The Synth Engine
I created a soundset for Bassline-101, and whilst working on it, I really came to appreciate the simplicity of the SH-101 design and so in my head that was the starting point for Cassetto. As you can probably see it went way beyond that simplicity, but I tried hard to keep to the idea of making it hard to make bad sounds which is the strong point of the 101. I just can't seem to keep things that simple...
My second thought was that I wanted it to be an instrument that Boards of Canada could use, I think out of any band they always seem to get sounds out of synths which is hard to describe, but to me always sound like childhood/Nostalgia. So, I had the cassette sampled oscillator, the next thing on my list was a way to warble the sound, a wow and flutter dodgy cassette sort of thing. On the synth it's called Unstable (UNST) and it works very nicely to create that feel. Finally I wanted to get some subtle saturation and most importantly sample rate/bit rate reduction in there, which is not only great for emulating digital gear, but it can make sound take on characteristics of Mellotrons and acoustic instruments sometimes. After some experimentation I decided to place it in between the 2 filters which leaves the option of having either a Low Pass in slot 2 for grit, or a High Pass for Noise and it works really well.
Initially I started with hard wired Serial Filters, but after trying out splitting the filters one to each oscillator it opened a whole new world I couldn't ignore, I followed that up with giving the ability to use the Filter envelope to control the Volume of Oscillator 2 and/or Noise. This just makes so many new sounds possible for the sake of a couple of buttons.
With the Arpeggiator I began by using the one I'd built for Multiverse, however I really wanted a Chord Mode and I ended up rebuilding it and so it does function slightly differently. It is basically a standard Arpeggiator with Sequencers grafted on, this can lead to some very complex polyrhythms. The other addition over the Multiverse ARP is the 16 note Pitch Sequencer which if you play a single Note behaves like a classic Sequencer.
Highlights
2 Oscillators with both multi-sampled cassette sampled sound and single cycle Waveforms
Noise Oscillator sampled from Tape
Unstable for warbling the oscillator pitch
Dual Filters with a large choice of filter types
Parallel Filters or One for each Oscillator
2 LFOs with selectable Waveforms, LFO1 resets on note, LFO2 is free running
Random LFO of the Filter
Filter Envelope for the Cutoff, Pitch and Optional Volume of Oscillator 2
VCA Envelope for Volume Control
Reverb with 50 Impulse Responses
Delay
Modulator with a choice from Chorus, Flanger or Phaser
Arpeggiator with Sequencers for various parameters
Preset Browser with the ability to save presets
Global Randomizer and Default, with the ability to save you own Default preset.
Section Default and Randomizer buttons
over 200 Presets (with more to come)
IMPORTANT: You must have the full version of Kontakt 5.6 to use Cassetto or the full version of Kontakt 5.5 to use Micro Cassetto, it will not load in earlier versions. It will also only work for 15 minutes in the player.
Cassetto Pads demo
Cassetto ARPs demo
Soundcloud
Bonus Products can be chosen from this huge list
Alectrona for ArcSyn
100 Presets for ArcSyn

Ammonite VSTi
Dual Synth with TerraNova FX engine, Subtractive, Additive, FM, Sample, RM and AM Synthesis.

Analog IR
110 Instruments for Izotope IRIS

Analog PS
200+ Analog Pads for Padshop Pro

ARP VSTi
Advanced Midi Arpeggiator and Note Sequencer VST Plugin for Windows, will drive anything with a midi in!

Aura for Zebra 2
80 Pads and Sequences for UHE Zebra 2

Auriga for Spire
75 Presets for the Reveal Sound Spire synthesizer

Awakenings HAL
Pad and Synth Presets for HALion 5.1

Awakenings IR
110 Beautiful Pads for Izotope IRIS

Awakenings PS
200 Delicious Pads for Padshop

Black Magic VSTi
Powerful unique Rhythm VST Plugin for creating diverse WAVs easily and quickly, records straight to usable Loops as well as multiple live and sequencer possibilities.

Bubony Percussion Loops
Large Collection of Percussion Loops in WAV and RX2 format

Calculus CZ
100+ Pads for Virtual CZ

Dissolution for Dune 2
75 Presets and 28 Wavetables for Dune 2 VSTi

Dissonance IR
110 Dark Landscapes for Izotope Iris

Essence for TAL Bassline-101
175 Presets for TAL Bassline 101

HG Electric Sitar VSTi + Sitar Loops
Sampled Jerry Jones Electric Sitar built into an atmospheric synth engine.

Homegrown Complete 2010 - Huge Sample Collection
Massive Collection of Loops, Breakbeats,Hits and Pads

Homegrown Piano VSTi
Steinway B sampled Piano with a warm sound, encompassed in a synth engine.

Kosmology - Analog
Advanced Groove Sequencing for Native Instruments Kontakt 5.3

Kosmology - Awakenings
Advanced Groove Sequencing for Native Instruments Kontakt 5.3

Kosmology - Dissonance
Chaotic Sequencing for Kosmology/Kontakt 5

Kosmology - Elementary
467 Sampled instruments makes the largest Kosmology Release yet!

Kosmology - Evolution
Advanced Groove Sequencing for Native Instruments Kontakt 5.3

Kosmology - Fusion
Advanced Sequencing for Kontakt 5.3

Kosmology - Lumin
Advanced Sequencing for Kontakt 5

Kosmology - Space
Advanced Ambient sequencing for Kontakt 5

Lifelines for Spire
96 Presets for Reveal Sound Sprire

Lumin IR
110 Beautiful Pads for Izotope IRIS

Mesh VSTi
Moog-like mono synth meets LFO Rhythm Machine

Molecules for PolyKB II
75 Presets for PolyKB II

Multiverse - Calculus
Phase Distortion/CZ1000 Sounds for Kontakt 5

Multiverse - Classics
Scripted Synth and Advanced Sequencer for Kontakt 5

Multiverse - Dominate
150 Instruments Designed with an MFB Dominion X

Multiverse - Fragmented
120 Multi-Sampled Instruments designed with PolyKB II and Dune 2.

Multiverse - Infekted
Scripted Synth and Advanced Sequencer for Kontakt 5

Multiverse - Vintage
Scripted Synth and Advanced Sequencer for Kontakt 5

Paradox for Dune 2
75 Presets for the Dune 2 Synthesizer

Pulse Control VSTi
If you ever wished your Waldorf pulse had many more features such as Modulation Sequencers, then this is the product for you.

Radiate for miniSyn'X
90 Presets for Xils-Lab miniSyn'X

Scala Creator VSTi
VST Instrument for creating Microtonal patches in the Scala format which can be used in any synth that loads them, such as Orgone and Bion.

Sequlation for the DSI Evolver
128 Sequences for the Evolver

Shimmer for UHE Bazille
120 Pads and Sequences for UHE Bazille

Spectral Shadows
70 Presets for Linnplug Spectral

Starburst IR
110 Beautiful Pads for Izotope IRIS

Starburst PS - Sounds for Padshop Pro
1400 Pads for Padshop Pro

Starburst TI
128 Evolving Patches for the Virus TI.

Virus Kits WAV / Battery / Kontakt
Hand Crafted Drum/Percussion Collection created with a Virus TI

Vortex VSTi - Multitimbral Groove Machine
Multitimbral Groove Machine with 12 sequencers, internal sound module and FX.