I released today a toy electronic keyboard free sample set.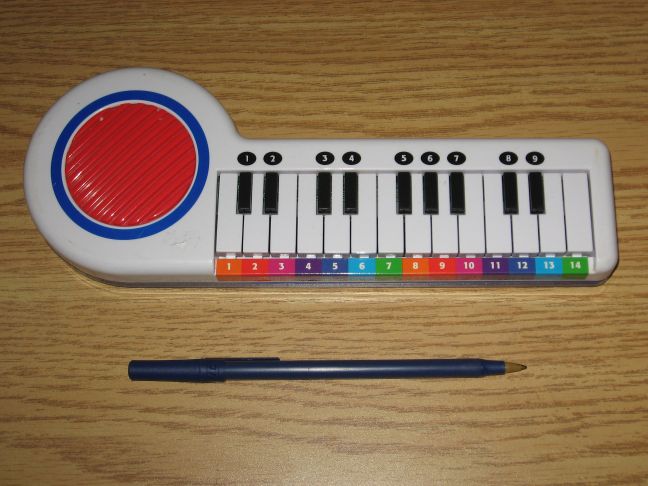 Two formats are currently available: soundfont and Kontakt 3 (with the wav files).
I sampled its 14 white keys. As can be seen on the photo, they range physically from G3 to F5 but the notes actually played are from A3 to G5 and they're not exactly in tune either.
For both formats, I have created 3 programs, please read the important details about each program below.
- Normal_mono: respects original mapping and tuning of the keyboard, also faithful to the fact that it's monophonic, notes always play for their full duration and there's a click at the end of each note.
- Poly_envelope: same as above but polyphnonic with a normal ADSR envelope.
- Tuned_Trimmed: individual samples are retuned and mapped accordingly, polyphonic, ADSR envelope, keyrange stretched to C1 - C7, click removed.
More info and photograph are included in archive.
Download it
HERE
(8.9 MB)
This is part of this year's Anniversary celebration. Also the Unusual Percussions Bundle (40% off) is now permanently available
Details and orders:
http://lesproductionszvon.com/Unusual_Bundle.htm
Thanks to everyone who supported us!