ESSENTIAL CHINA
[Updated 201208: New instruments added to the package]
Kong Audio now introduces "Essential China" pack with contains
seven
selected classical Chinese instruments from the much acclaimed
Chinee Series
, including ChineeWinds (flutes), ChineeKong V3 (percussion), ChineeErhu (Erhu and Erhu II), ChineeGuzheng (Guzheng), ChineePipa (Pipa), and ChineeSheng (Sheng), constituting the core of Chinese music elements, the composers and musicians around the globe can now have access to the same tools as the working Chinese professionals do, to paint with a finer stroke and a broader sound palette.
With Essential China, you get to the essence of the distinct China.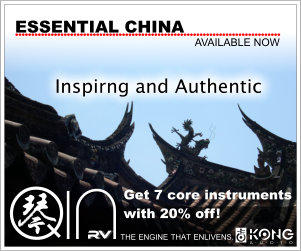 *7 selected core Chinese instruments
*2.4 GB state of the art sample sets
*Produced, recorded, programmed and arranged by people who live and breath with the actual instruments.
*Powered by the brand-new QIN RV engine.
The Essential China pack is available with a 20% off discount. So it costs only 285 USD instead of 356 USD.
For more info, please visit the page below:
http://www.chineekong.com/essentialchina.htm