Since we first started in 2005, making a Chinese orchestra library is what we had in mind to begin with. It has been a really really a loong and rough ride. But still, QIN RV is rewritten from the scratch and a big step forward (even though it retains a good portion of the v1 looks). It's much much better than QIN v1.0 engine in every single way. And most important, it sounds great and is extremely fun to play with!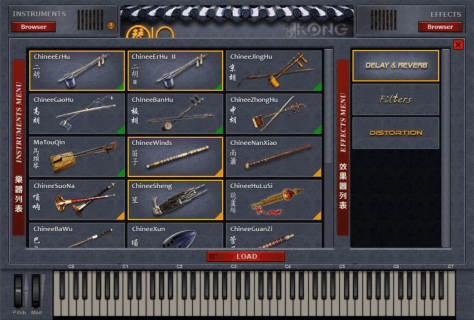 In
Chinee Orchestra
there are 8 new instruments:
Five new Hu fiddles: ChineeErHu II, ChineeJinHu, ChineeZhongHu, ChineeGaoHu, ChineeBanHu; One new plucked instrument: ChineeRuan(Moon Guitar); Two new wind instruments: ChineeXun(Chinese Ocarina), ChineeBaWu.
The complete instrument list of Chinee Orchestra:
Wind instruments: ChineeWinds (various Chinese flutes), ChineeNanXiao, ChineeSheng, ChineeSuoNa, ChineeGuanZi, ChineeHuLuSi, ChineeXun, ChineeBaWu.
String instruments: ChineeErHu, ChineeErHu II, ChineeJinHu, ChineeZhongHu, ChineeGaoHu, ChineeBanHu, MatouQin.
Plucked instruments: ChineeGuZheng II, ChineePiPa, ChineeGuQin, ChineeLiuQin, ChineeSanXian, ChineeRuan.
Percussion instruments: ChineeKong V3 (various Chinese percussions), ChineeYangQin.
*Hight-lights:
23 polished classical Chinese instruments.
re-written from the scratch, the brand new multitimbral/multiout QIN RV 2.0
Windows 32-bit native engine.
Special attentions have been paid to the legato mode to accommodate Chinese instruments' characteristics.
The price for download version of Chinee Orchestra is 690 USD.
Chinee Orchestra is available as immediate direct download, with an optional boxset purchase to follow.
Each individual instrument is also available for purchase separately.
QIN RV 2.0 engine upgrade is free for existing customers.
For more info and audio demo, please visit
http://www.chineekong.com
1. Existing customers get FREE QIN RV engine upgrade.
2. Existing customers (prior to the release of Chinee Orchestra) get special loyal discount offers. Check your email. Contact us (email or PM us here) if you haven't received it yet.
Some audio demos:
ErHu_II_Huangxu.mp3
Xun_XiaoXuMusic.mp3
ErHu_XiaoXuMusic.mp3
Bawu_XiaoXuMusic.mp3
JingHu_XiaoXuMusic.mp3
Youtube video:
http://www.youtube.com/user/wallness/videos
*Here's how to
pronounce "QIN"
. This is the PinYin transcription system. It doesn't sound like "Queen", but more like "Chin". Qin means "instrument" in Chinese.