Kong Audio
announces the immediate availability of
Chinee Orchestra
box version and the release of QIN RV 2.10 engine update, as well as the instruments update.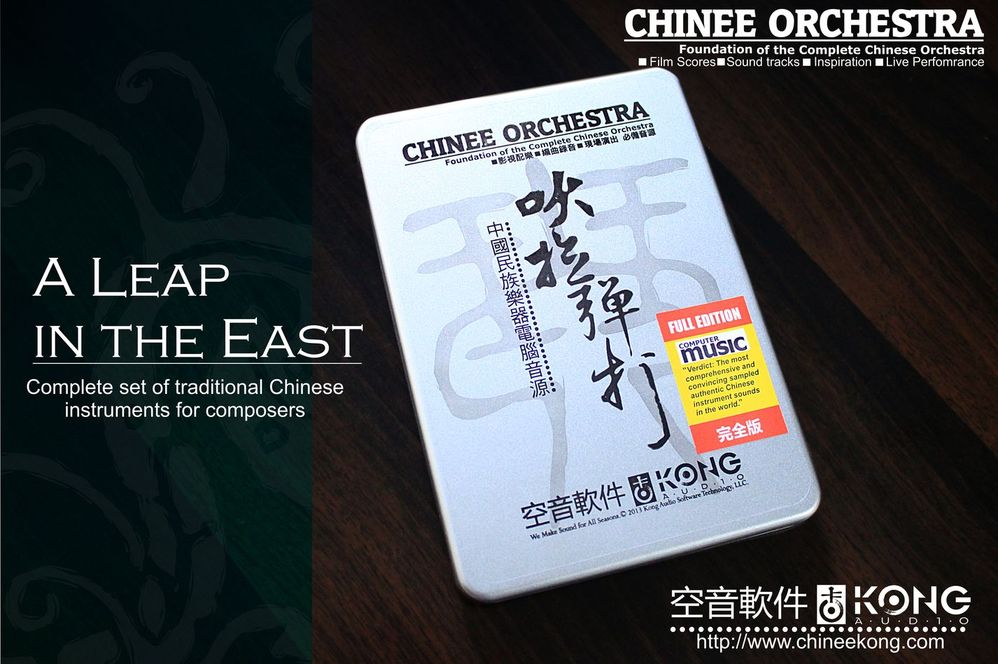 All existing customers should have already received the free update and the loyalty discount offer email notification. (if you didn't receive the message,
check here first
, then drop us a line via email or PM us here)
QIN RV 2.10 engine update:
* New Extender: Legato II - enhanced nuance expression.
* Enhanced Legato I in the polyphonic mode.
* Enhanced logics for Legato and Keymaps.
* Various minor improvements and bug fixes.
Instrument Update:.
* New presets added for most instruments.
* New Clapper samples added to ChineeKong v3.
Instrument soundbanks revamped: ErHu, ErHu II, BanHu, JingHu, SanXian, ChineeWinds, NanXiao, MaTouQin, ZhongRuan have their soundbanks revised.
This update puts focus on improving the legato expressions of various instruments, hence the soundbanks have been redesigned to work with the new Legato II Extender module.
Chinee Orchestra contains 22 classic Chinese instruments covering the instruments of the modern day Chinese orchestra, powered by QIN RV engine player developed by Kong Audio.
As always, both the QIN RV engine player and the instrument updates are free for all existing customers.
The free Chinee GuZheng Classic is also updated to the latest version.
THE MSRP of Chinee Orchestra box version is 690 USD. The box can be purchased optionally for 35 USD for world-wide DHL shipping and handling.
Promotional Trifold:
http://www.chineekong.com/Docs/CO_3fold.pdf
Youtube video:
http://www.youtube.com/user/wallness/videos
System requirements:
Windows XP/VISTA/Windows 7/8. 4GB RAM.
32/64-bit VST host sequencers compatible.
Compatible with FXpansion RTAS Adapter.