Fusion Analogic by kpr
is a handling concept and sound library that turns the Alesis Fusion into an analog synthesizer.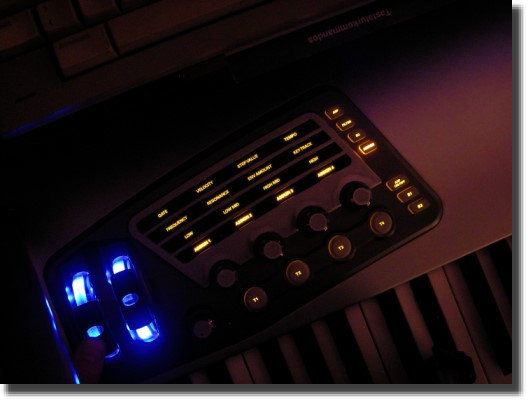 All major parameters of an analog synthesizer are assigned to the 14 Fusion's Controller system: Knobs, Buttons, Switches, Wheels, Aftertouch. This allows to change any sound of the included sound library by simply turning a Knob, pushing a Button and so on.
This allows a performance like playing on an analog synthesizer with ease.
Brilliance, loudness, tone modulations, even echo effects and much more is controllable simply by using the Controllers. All of them are setted to standards, this means that every sound uses the same Controllers for the same tone adjustments.
All sounds are programmed with additional Arpeggio, that always fits nicely to the concerned sound.
An instructional manual (PDF) is included and explains in short words how to handle the
Fusion Analogic by kpr
system within a brief learning curve, so you can concentrate on your music and use the expressive sounds right away.
128 Program Presets, categories: Lead, Bass, Bass & Lead, Poly, Percussive, Pad, FX Synth.
youtube teaser clip:
http://youtu.be/lzXlfWBO_rY
youtube sounddemo:
http://youtu.be/ynM1y55x31E
Product page:
http://www.backintimerecords.de/bitr061.htm