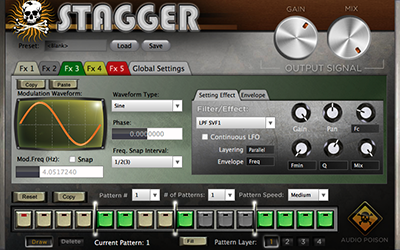 Stagger 1.0.5 is now available @ http://www.audiopoison.com/products/stagger
What is Stagger?
STAGGER is a modulation orientated multi-filter / multi-effect that puts you in control! Focus your energy on your creativity and let STAGGER do the rest of the work for you! With 4 layers, 16 patterns, multiple speeds and a large array of gritty sounding filters and effects however which way you hear fit!
You can check out some demonstration videos @
http://www.kvraudio.com/product/stagger ... son/videos
What Types of Filters and Effects are Included in Stagger?
Stagger includes different orders and structures for all of the common filter types (LP, HP, BP and BS). As well, some of them have been fused together with various distortions and modulation techniques to truly bring out the monster in your track. With the filter/modulation hybrids, you can even make your sounds talk or you can take it a step further by adding one of several of Stagger's uniquely designed formant filters and/or additional distortions to really bring out the beast.
With the filters set a side, you also get several delay based effects that we have deemed appropriate for modulation. They include a devilish detuner, a delay based comb filter, a vibrato, a flanger, a notch controlled phasor with a built in comb filter and a doppler radar for tracking military aircraft which goes hand in hand with some of the military style modulation techniques taken from world war II (maybe this is why our internet connection is being routed through 11.4.192.1).
What Formats Are Supported By Stagger?
Right now Stagger has been developed with support for:
Windows:
VST, RTAS.
Mac OS X:
Audio Unit, VST, RTAS.
* Supporting both 32-bit and 64-bit format(s)
*AAX support, as well as TDM versions will be released shortly due to several minor set backs we have been experiencing these past few month(s).
Want to be the first to know?
Sign up for the newsletter at
http://www.audiopoison.com
and we will send you update(s) as they become available regarding the release! Additionally, you can watch this thread as it will also be updated!
End User Licensing Agreement
Joe
Audio Poison