We have just released a new version of the now famous Digital Peak Meter Pro, a unique plug-in
able to transform the audio signal to various types of controls (see the screenshots below).
New in V2.0:
- The plug-in is now 100% real time thanks to the MIDI output capability: generated envelopes can be used to control any MIDI hardware or software plug-in.
- Advanced MIDI control with customizable parameters curve response and MIDI learn.
- Skinnable user interface with Blue Cat's Skinning language V1.2.1 support.
- RMS envelope support.
- new parameters for total control of the peak envelope detection.
- Real time envelopes display.
- All parameters can now be fine tuned thanks to a text-edit popup window that appears when double clicking on user interface widgets.
A step by step tutorial is available to learn how to use the new advanced MIDI control features:
http://www.bluecataudio.com/Tutorials/
There will be more to come given the large number of applications for this product.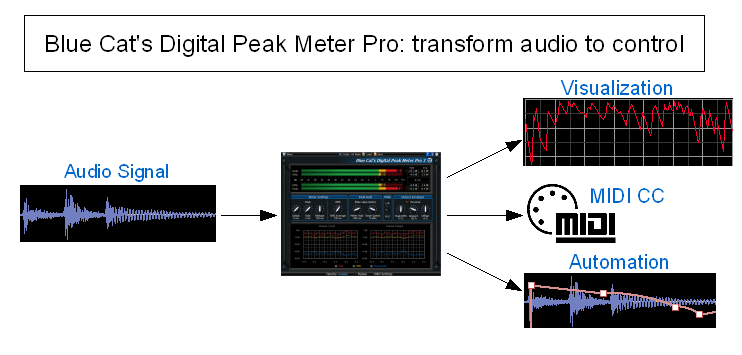 Product link (Download the demo here):
http://www.bluecataudio.com/Products/Pr ... kMeterPro/
Price:
A special introductory price lets you get the Digital Peak Meter Pro for 27.3 EUR (USD $32.76) instead of 39 EUR (USD 46.8 ).
Upgrade from version 1.x is 12 EUR only (USD 14,4).