I've become concerned that I'm spamming the KnobMan thread too much and that perhaps bug reports and suggestions are getting lost in the mix. So I thought I'd start a new thread where we can post KnobMan and SkinMan examples seperate from the KnobMan thread. That way g200kg can have an ongoing dialog with users without the noise of me posting my latest knob or screw... erm.
Anyway, so to kick things off, I've been trying to render a switch based on one I found at Radio Shack's website:
Radio Shack Switch
Here's what I've come up with: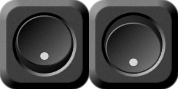 (I'm ignoring the round base in the Radio Shack version)
Radio Shack Switch
The problem is that I don't know if I've captured the look of the switch going back and forth. I'm moving the upper layer circle, but I don't know if that's the right approach.
P.S For some reason the links aren't loading right now. My server must be having a slow day. The links are legit, though, so maybe try back later.