Blue Cat's FreqAnalyst Multi
and
Blue Cat's StereoScope Multi
have been updated: this new version mainly brings the ability to save difference curves in order to perform comparisons between response curves.
This new tutorial
demonstrates this capability and explains you how to imitate the sound of a guitar amp cabinet with a simple EQ.
The upgrade is free for existing customers, and if you are not yet among them,
check out the demo
!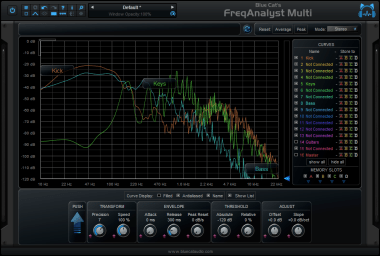 What's new in v1.9:
- Difference curves can now be saved for easier comparisons and stereo spread matching tasks.
- Windows uninstaller now proposes to remove preferences as an option.
- Misc minor user interface and windows installer changes.