December Contest: Submissions
Posted:
Sat Dec 01, 2012 3:16 am
National Anthem and then some
This month you are asked to submit a new national anthem for a country real or imagined.
You must use
:
A. At least one entry from the
Developer Challenge
and
B. At least part of one (and only one) of the following full entries (no stems) from November's contest as a significant part of your submission.* You cannot use your own entry from November. Your submission post should mention which you used. What you use should remain generally identifiable in your submission (basically, don't mangle it beyond recognition; otherwise, do what you will).
*To answer the inevitable (and not unreasonable) question: just use your head and the honor system--ask yourself, Is it a significant part? If you can honestly answer yes, then you've probably got it right.
The scrapyard
(If you have a problem getting a download ask the performer and/or D.H. Miltz.)
Angel Remington - Drums Allowed
(138bpm, 4/4)
vurt - melody and harmony stayed home today
Zombie Queen - Pirates of Polar Highways
(90bpm in 9/16)
Emerald Tablet - Pace
nikp2000 - beat12
rachmiel - it's alive
ClaRago - Kiss Kiss Bing Bong
(120bpm, 4/4)
kryptonaut - ICBM
(4/4, 6/8, 7/8 and 5/8 at 140bpm, then accelerating to 185bpm whilst alternating 6/8 7/8 )
DHMiltz - Take Three
(no idea)
DHMiltz - Take Three
evo2slo - The Adventures of Gourdman
(218bpm, 7/8)
peppy197 - perksymfonia
(134bpm, 4/4)
mellotronaut - Boats Talk
Doc Jon - Rhythm Method
(120bpm, 4/4)
Shangsean - Firelight
Ruedirena - Deadly Drummer Boy
(136 bpm in 4/4)
Laguna Rising -The Wicked Helix
(130bpm, 4/4)
jovexli - Frame by Frame
JJ Biener - Temple of Chaos
Gmoneh - Thumping Deep
(90bpm, 4/4)
forw - 5 little warriors
(143bpm, 4/4)
bzur - Ogre Battle
(140bpm, 4/4)
robojam - Project Complications
(120bpm, 4/4)
rp314 - mU
(76bpm, 4/4)
Farlukar - Hss
Farlukar - Hss
beanpole - Drum n Coke
(120bpm, 4/4)
gigue07 - Tea Cheese
(106bpm, 4/4)
key88 - Perc But no Coffee
_____________________________________
Submissions MUST follow these rules:
1 - Encoded in either .mp3 (192kbps or lower if fixed rate ... average of 192kbps or lower if VBR) or .ogg format (quality level 6.00 or lower)
2 - A STRICT MAXIMUM of three minutes in length. If it shows up as 3:01 in my player, it's getting the boot.
3 - entered into the contest by posting a DIRECT LINK in this RULES & SUBMISSIONS thread (use the GOSSIP thread for everything else). If you cant provide a direct link, please contact one of the following people listed below, they will be happy to help you out. These people provide free hosting for the purpose of this contest only! They are not a hosting service. When contacting these people, please take the effort to understand the terms and conditions they provide.
Providers:
1 - knockman
2 - watto
3 - slartibartfast
In addition...
Kara at
www.kara-moon.com/forum
has offered "self service" space. Log into the forum to find out more.
But wait! There's more! If you use SoundCloud to host your entry, you might find
this tutorial by kryptonaut
helpful. Bear in mind that SoundCloud's free accounts have a limit (per track) of 100 downloads.
4 - Submitted by early a.m. (
US Central Time
) Tuesday, December 25th, 2012.
5 - Your entry must be composed specifically for this contest.
6 - Your entry must be created using at least some audio plugins, virtual synths, or software studio.
7 - Your entry should have the FILE named in a format of "yearmonth_artistname_tracktitle" (ie "1206_artistname_tracktitle.mp3"), where the artistname is the same as your KVR name. Please do not use spaces and special characters in the filename. I will be booting for improperly named comps (this will not be a DQ, just a little reminder that you didn't tag your comp correctly). Special considerations will be given to those that have the hosting agent change the file name.
8 - If you are going to tag your mp3--and you should--the artist name is to be the same as your KVR name, and the title tag is to be the name of your tune(help us out, okay? it's easier to sift through labelled entries).
9 - One person can participate either with one entry, with one entry and one collaborative effort or with two collaborative efforts.
10 - Every submission has to be tagged with:
a) used instruments (virtual and 'real')
b) players' and singers' names (if other than entrant; collabs are allowed, sometimes encouraged, but they must be credited)
c) origin of loops and samples, if they're not free of copyright (this includes CreativeCommons material; please read and follow the license of the samples and loops you use); naming the origin of copyright free loops is also encouraged, but not mandatory.
Please only use samples you are legally entitled to use.
d) name(s) of composer(s) -- if an entry is a cover this should be noted in the file name and/or the mp3 "Title" tag as well as the submission post (not everyone reads the submission posts).
11 - If there are strong doubts about the origin of the composition or parts of it, the participant should have the possibility to send a project file to the moderator, who could give it to a trustworthy person with the right host to examine it. Important: the participant should not be forced to do it.
12 - No resubmissions without permission from the moderator, INCLUDING for time-overage correction. PM me for permission!
13 - Any tracks not adhering to these guidelines will be very naughty indeed. Possibly disqualified upon peer review. And at least mocked for all to point and giggle.
14 - Voting (members must have at least 20 posts to vote ... although contest entrants are exempt from this ruling) will run from the submission deadline until early a.m Tuesday, January 1st. Anyone voting for themselves will find ALL their votes disqualified; any entrants not voting will also be disqualified.
If you have questions, send a private message to D.H. Miltz or ask in the gossip thread.
______
PRIZES
Ben from
Camel Audio
has been so kind as to donate a prize of ANY of their
products this month (and later months until further notice).
Ugo at
Ugo Audio
has donated a copy of M-theory + Dualism bundle, Ironhead + Tunguska bundle, Metallurgy, or Disturbance, for this month (and later months until further notice).Thanks UGO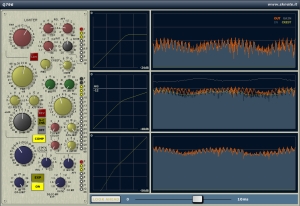 Quinto from
SKNote Software Sound Synthesis
has donated any one of his plugins for the contest this month. (and later months until further notice). Thank you Quinto.
Michel Rouzic the developer of
Photosounder
has donated a copy (with noncommercial license) of Photosounder or a copy of SplineEQ for the October contest (and later months until further notice).
Dave Hoskins from
QuikQuak
has donated a copy of Fusion Field (full license) for December's contest (and later months until further notice). Thanks, Dave Hoskins.
Jack from
Psychic Modulation
has donated a copy of Phonec for the October contest (and a few more/until further notice). Thank you, Jack.