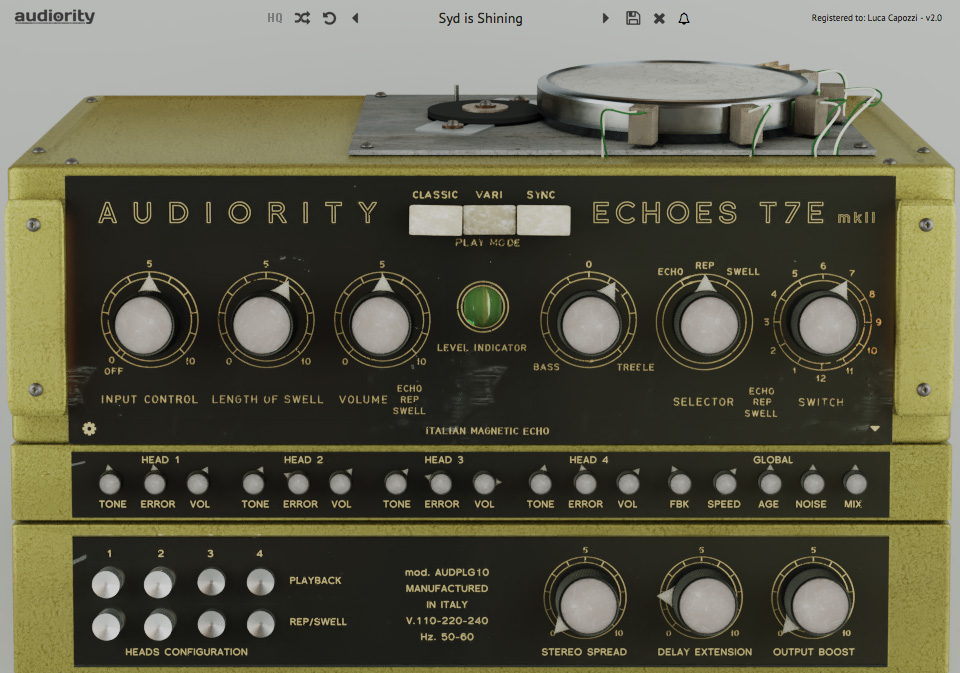 Echoes T7E updated to v2.0 (mkII)
– NEW: Heads configuration matrix
– NEW: Delay Extension (set to 0 to use Echoes as a preamp)
– NEW: Output Boost
– NEW: Speed Filter
– NEW: Lite Mode
– NEW: Notifications System
– NEW: VST3 plugin format
– NEW: HQ Mode
– NEW: Mac OSX 10.15 Catalina support
– CHANGE: SWITCH position saves the current Heads Matrix Configuration
– CHANGE: Improved Swell heads volume
– CHANGE: Stereo Spread in front panel
– CHANGE: New framework
– BREAKING CHANGE: 64bit only
– FIX: Feedback still active when knob is on 0
– FIX: Wrong output volume translation from presets < v1.1
PLEASE NOTE
:
Do to the extensive changes (and breaking changes) that comes with this version, we decided to build it as it is a "brand new" plugin. Echoes T7E mkII will not replace your existing Echoes installation, so this will not mess up the projects involving Echoes T7E. As usual, this update is free for existing users. Echoes T7E mkII will go on sale soon, with our Black Friday promo.
Video demos coming soon!
To update download and install the demo version from the
product page
or from your
User Area
account.
Cheers,
Luca