EDIT3: this thread and software have come a long way, so here's the current state of things and the original post will follow.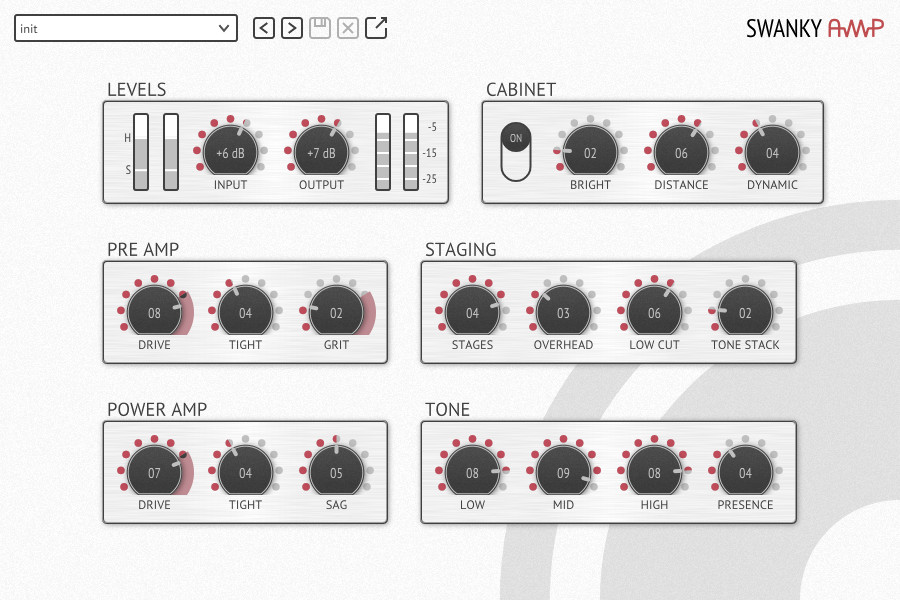 You can find more information and downloads at:
https://www.resonantdsp.com/swankyamp/
The software is open sourced, and the source code can be found on GitHub at:
https://github.com/resonantdsp/SwankyAmp
It is currently distributed as a VST3 for Windows, VST3 and AU for Mac.
---
Original post:
I just finished work on an amp simulator plugin. The status is certainly alpha at the moment, the UI being bare-bone, and with notable features such as preset management lacking. I'm hoping to get some early feedback to get a feel for whether or not I'm on the right track to make something people want to use. At the moment it's only available as an x64 VST3 which you can grab here (sorry to Mac and Linux users, and the rare remaining Win 32 users):
I spent quite some time simulating amplifier circuits to develop a model that captures the dynamic aspects of tube amplifiers. The hope is that the result is something that feels like it has more realistic touch sensitivity.
A benefit of this approach is that the model is highly tunable. I added a few knobs that effectively change things like tube geometry, capacitances, voltages etc. The hope there is that you can tune into a very specific amp sound, not just its tone but the sound of the distortion as well.
I have no specific release plans at the moment. But if I am able to tweak this into something that sounds good and is usable I'd like to keep a free version around, make some of the code open source (it's a different approach from how guitarix does their simulation, so maybe this will be useful to the open source community). If it looks it can be more than a curiosity I will consider a more advanced payed version as well.
To anyone who wants to try it out, thanks in advance and I hope you enjoy it.