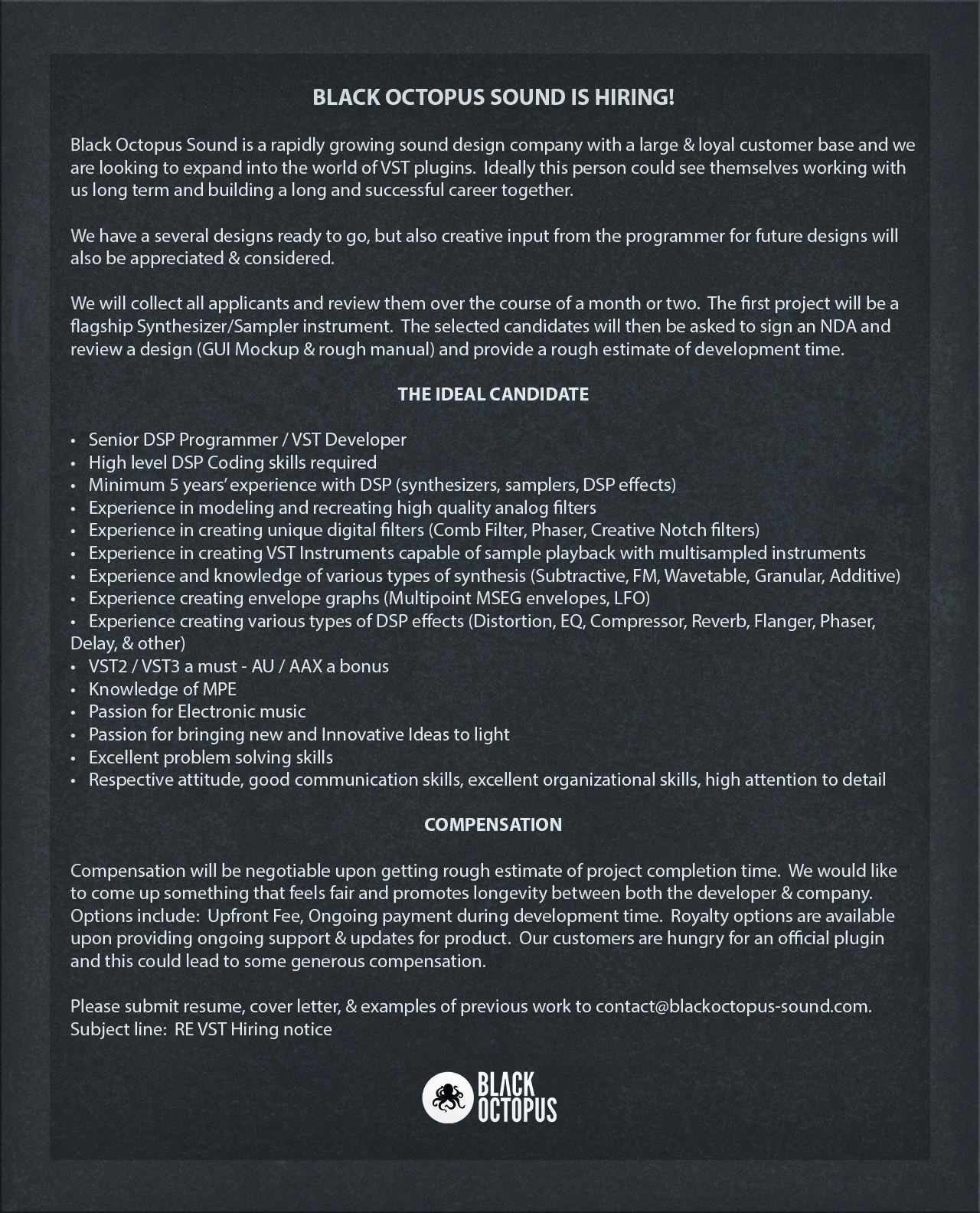 Black Octopus Sound is hiring!
Black Octopus Sound is a rapidly growing sound design company with a large & loyal customer base and we are looking to expand into the world of VST plugins! Ideally this person could see themselves working with us long term and building a long and successful career together.
We have a several designs ready to go, but also creative input from the programmer for future designs will also be appreciated & considered.
We will collect all applicants and review them over the course of a month or two. The first project will be a flagship Synthesizer/Sampler instrument. The selected candidates will then be asked to sign an NDA and review a design (GUI Mockup & rough manual) and provide a rough estimate of development time.
The Ideal candidate
• Senior DSP Programmer / VST Developer
• High level DSP Coding skills required
• Minimum 5 years' experience with DSP (synthesizers, samplers, DSP effects)
• Experience in modeling and recreating high quality analog filters
• Experience in creating unique digital filters (Comb Filter, Phaser, Creative Notch filters)
• Experience in creating VST Instruments capable of sample playback with multisampled instruments
• Experience and knowledge of various types of synthesis (Subtractive, FM, Wavetable, Granular, Additive)
• Experience creating envelope graphs (Multipoint MSEG envelopes, LFO)
• Experience creating various types of DSP effects (Distortion, EQ, Compressor, Reverb, Flanger, Phaser, Delay, & other various creative FX)
• VST2 / VST3 a must - AU / AAX a bonus
• Knowledge of MPE
• Passion for Electronic music
• Passion for bringing new and Innovative Ideas to light
• Excellent problem solving skills
• Respective attitude, good communication skills, excellent organizational skills, high attention to details
COMPENSATION:
Compensation will be negotiable upon getting rough estimate of project completion time. We would like to come up something that feels fair and promotes longevity between both the developer & company.
Options include: Upfront Fee, Ongoing payment during development time. Royalty options are available upon providing ongoing support & updates for product. Our customers are hungry for an official plugin and this could lead to some generous compensation.
Please submit resume, cover letter, & examples of previous work to
contact@blackoctopus-sound.com
. Subject line: RE Hiring notice