At Martinic, we've just released our newest instrument plugin and our first full synthesizer. It's an emulation of the original AX73, enhanced with elements of the AX60 and AX80 synths plus extra additional features.
You get two full synth layers – two AX73s that can be split across the keyboard or played together as one. Each layer has two oscillators (plus 2x sub and noise), a filter, four LFOs, four envelopes and an arpeggiator.
Our AX73 is capable of 24 voices of polyphony, has detailed voicing options
You can pick up a demo version at
www.martinic.com/ax73
.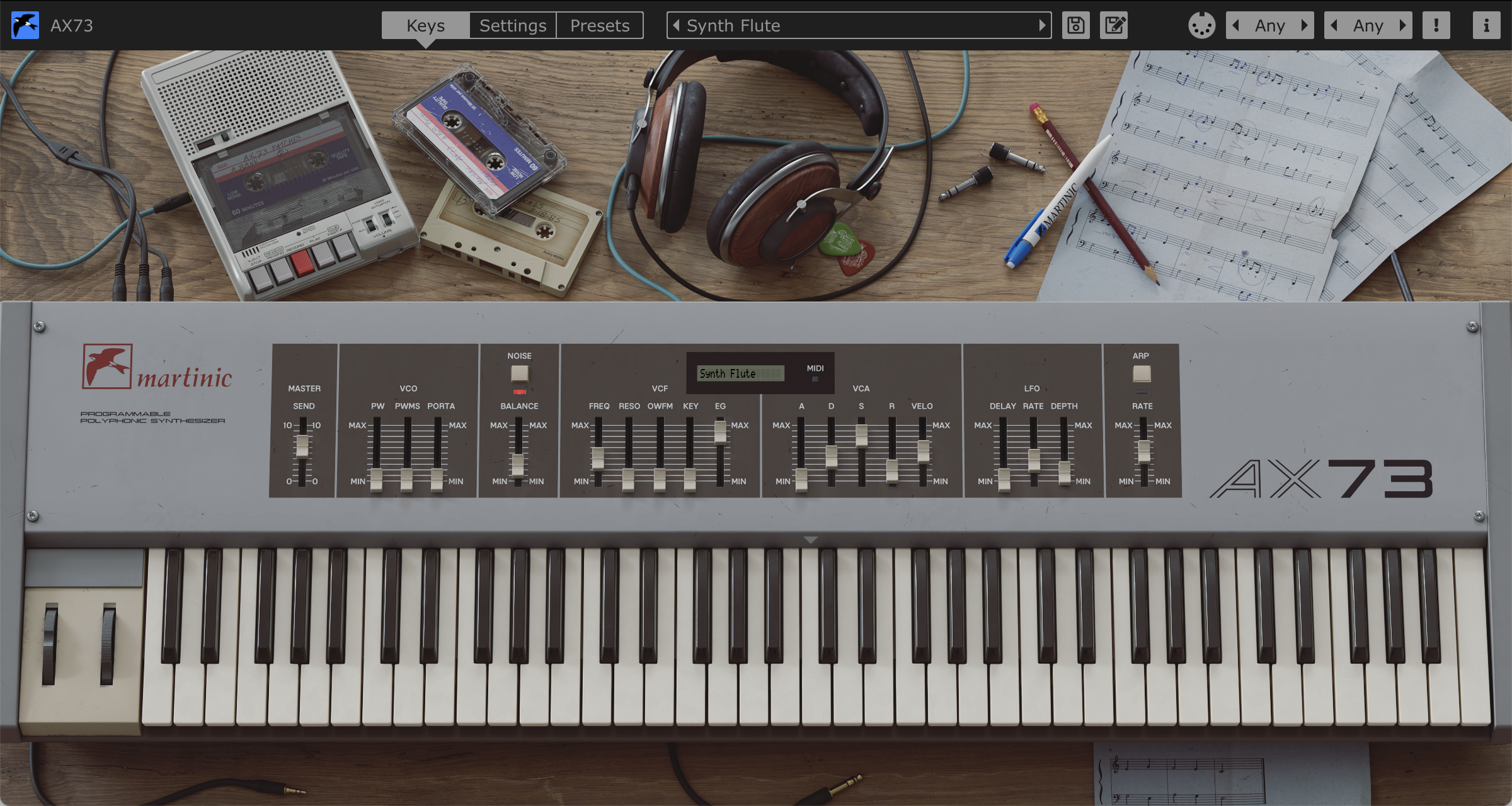 Enhancements and Additions
For the plugin AX73, the original synth has been emulated and duplicated onto two layers, giving rise to four-oscillator patches in Layer mode, or access to two complete synth setups across the keyboard in Split mode. MIDI mode allows the layers to be played by individual MIDI channels.
Martinic's AX73 features four LFOs and four envelope generators per layer, a global effects section with eight processors, the arpeggiator from the AX60 (one per layer) and the sub oscillator from the AX80. VCOs can be tuned down to the 32' octave as in these two synths. There is also a comprehensive preset browser with tagging and search functionality to manage the synth's 600+ presets.
Key Features
• Dual synth layers let you stack or split patches to create unique and complex sounds
• Four VCO sources, four Sub and two Noise oscillators, across two layers
• Up to 24 voices of polyphony, a total maximum of 144 oscillators
• Filter per-layer (LP/HP/BP) with self-oscillating capability
• Chorus with four analog models
• Four DADSR Envelopes per layer
• Four LFOs per layer, with one-shot and 'stepped' capability
• Arpeggiator per layer with 11 arp modes (based on the AX60)
• Eight effects units (EQ, Compressor, Distortion, Chorus, Phaser, Flanger, Delay, Reverb) with flexible ordering
• 600 presets from a team of sound designers with credits including the DX7, NI Massive, and Blade Runner. AX73 Legacy Collection, with presets from the original synth, included.
• Available in VST / AU formats. AAX and MPE support in the works
https://youtu.be/0m1XQBHR_dA