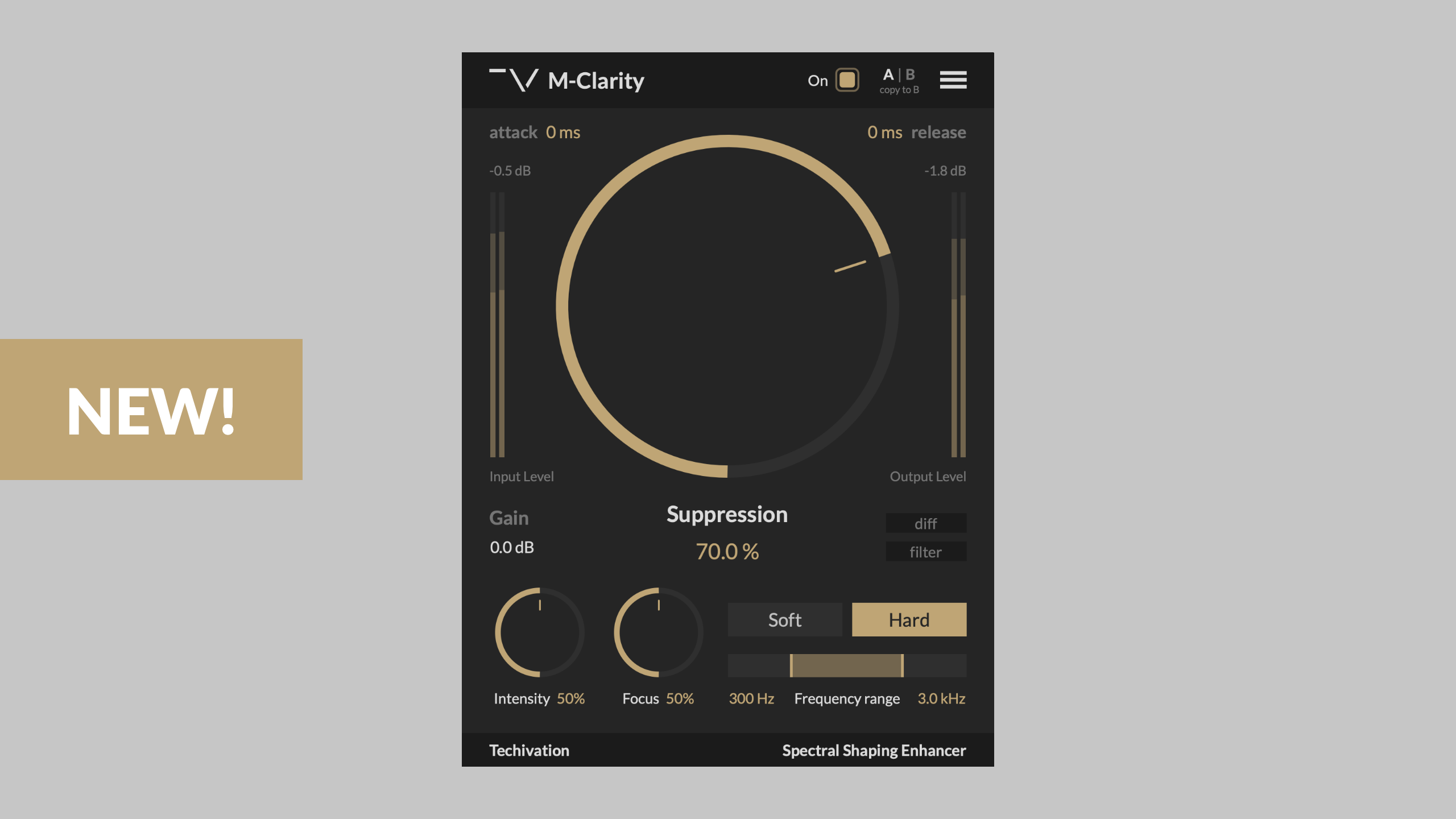 Hello everyone! We're excited to introduce you to our latest plugin, M-Clarity, the newest addition to our M series.
M-Clarity is a versatile dynamic resonance suppressor plugin designed to suppress unwanted muddy, boxy, and harsh frequencies and resonances in any sound. It combines simplicity and power, employing a unique spectral shaping algorithm to deliver accurate results.
It's designed to be used for audio mixing, mastering, and editing.
Spectral shaping employs dynamic processing to balance the frequency spectrum of the sound, a task that is beyond the capability of equalizers and compressors. Our unique spectral shaping algorithm in M-Clarity is optimized for delivering superior results with minimal CPU usage.
Major Capabilities:

- Enhance the overall tonal balance and clarity of your tracks.[/list]
- Clean any kind of singing vocals or voiceovers from muddy and harsh frequencies, unwanted resonance, and pops.
- Clear up your drum hits by removing muddiness and boxiness to ensure they fit nicely in your mixes.
- Balance the frequencies of your tracks during mastering to achieve the loudest sound with the highest quality.
- Clean up your instrument recordings, such as piano, synths, and strings, to ensure they sound pleasant to the ear.
- Create the tightest and most balanced bass lines by keeping the low frequencies balanced and clean through the elimination of boxiness.
- Soften and round out your transient sounds.
Pricing

M-Clarity is now available at techivation.com for an introductory offer of 45.00 USD; The original price will be 129.00 USD after May 31st, 2023.
Crossgrade & Upgrade offers: Owners of other premium Techivation plug-ins can get a special loyalty offer of 35.00 USD, and those who own all other Techivation plug-ins can have it for only 25.00 USD until May 31st, 2023.
Techivation T-Clarity users can also upgrade for 25.00 USD.
Free Trial

There's a fully functional 14-day free trial available on our website, offering users to test the plug-in before committing a purchase.
For full product details and specifications, please visit:
https://techivation.com/m-clarity/
We'd love to hear your feedback.
Thank you!
Amin - Founder & CEO.