accSone released crusher-X 6.5
New modulations modes - improved buffer live/stop - support for screen less editing - bug fixes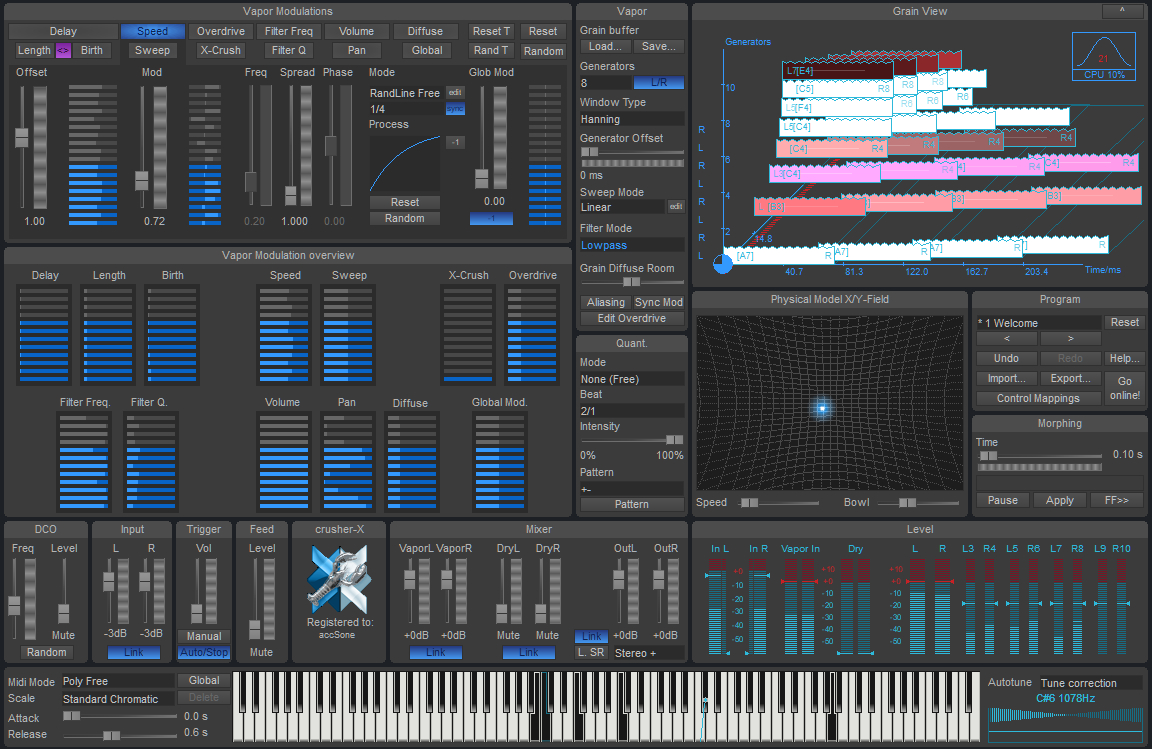 During NAMM 18 accSone released version 6.5 of the granular synthesiszer plug-in crusher-X!
What's new in version 6.5?
Introduces invert vapor modulation processing (supports morphing)
Introduces invert global modulation (supports morphing)
Introduces Scan Modes for Spline and Step modulation: Modulation flow can be steered with random generators or the X/Y physical modeling controller
Introduces several support for blind / sight impaired musicians: Introduce hot keys (<1>- <6>, <q>-<z>) for parameter selection and <o> for loading a wave file into the vapor buffer. Introduce plug-in parameters cursor-X, cursor-Y, SetDelete to edit spline curves or steps sequences
Improves the behavior of moving from live- to fix vapor buffer mode: When release Auto/Stop trigger button the buffer fill stops immediately
Adds more than 50 new plug-in parameters
Fix Random S&H modulation bug
Fix Spline/Step Editor open bug
How to update?
The update is free for crusher-X 6 owners:
Just download again like it is described in your delivery mail.
crusherX-Mac!, crusherX-Studio! or crusherX-Live users (version 5 and below):
Upgrade / crossgrade: 99,- € (incl. VAT - For outside EU residents VAT will be removed from card)
https://www.accsone.com/shop/products/c ... -uc-detail
Full version:
Price: 199,- € (incl. VAT - For outside EU residents VAT will be removed from card)
https://www.accsone.com/shop/products/c ... x-6-detail
http://www.youtube.com/watch?v=jhF74ZQvI8Y
Best
accSone