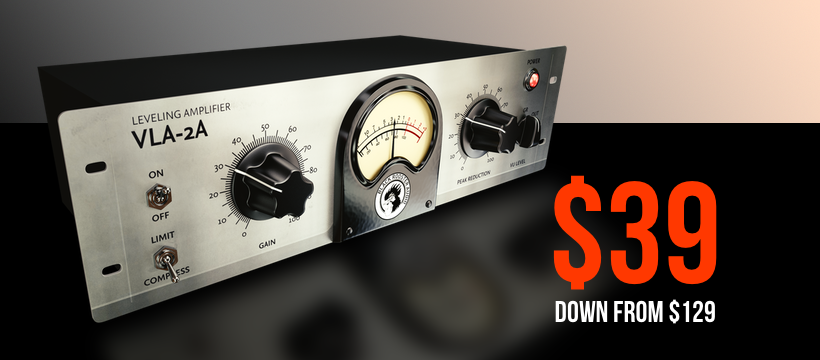 Black Rooster Audio is offering the VLA-2A at
$39
(down from $129) until the 4th of November. VLA-2A is inspired by one of the most famous opto-electronic compressors of the late 1960s. The plugin, available in AAX/VST/AU, can be used on drums, but it also performs well on bass, vocals or mix groups. Carefully adjusting the compression really helps to make your signals just sit in the mix.
Features
AUTHENTIC CIRCUIT EMULATION.
Our real-time component based circuit simulation approach allows for authentically capturing the sound and feel of the analog unit as close as possible. All the crucial parts, including in- and output transformers, sidechain and audio path tube stages, filters and of course the T4A cell have been faithfully modeled and matched with an original '68 reference unit.
SSE2 OPTIMIZED CODE.
DSP operations are pipelined using the SSE2 instruction set. This ensures high-performance operation despite very complex computations.
AUTO-ADJUSTED OVERSAMPLING FOR MAXIMUM AUDIO TRANSPARENCY.
Aliasing artifacts are efficiently attenuated using a low latency linear phase Dolph-Chebyshev polyphase design. The oversampling rate is auto-adjusted to your session's sample rate to save CPU while offering the most transparent sound possible.
HIGHDPI / RETINA SUPPORT.
Our user interfaces support high pixel density on both Windows and Mac OS systems to present you with the most enjoyable user experience on high DPI displays. Please refer to your manual to learn whether your DAW is HighDPI capable if you're working on Windows.
Further info:
blackroosteraudio.com