found one of these in a seconghand music shop the other day, and went in today to get some details.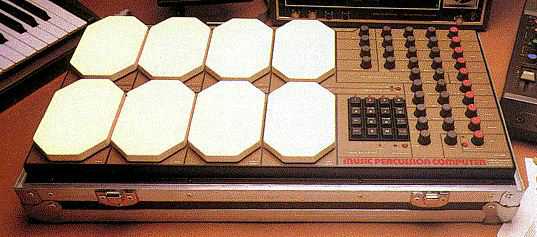 Its an old 1983(?) Music Percussion Computer (made in Cambridge by MPC Electronics)
8 big pads, and 3 rack mounts thst come with this (the brain i guess and other stuff)
DSM 1 Rack Module
DSM 200 Rack
DSM 32x4 128 memory drum synth
The main lump with the pads has sync in/out, looks like MIDI dut may by DIN. Also has tape in/out and a serial port labelled 'computer' which i assume goes into the 'brain' rack.
Price..£199 for the main part and about £30 each for the racks, but they are selling it all as one item, but he didnt know the price. (with flight cases)
Anyway, looked kinda interesting, just thought id share this find with you.
Only info i could find about it is here:
http://www.synthmuseum.com/mpc/index.html
Maybe someone else is familiar with it.