Moss Equalizer 1.4
VST2 and VST3 version
---
Free VST plugin -
Moss Equalizer
effective 265 - band (1/24 oct.) FFT equalizer, able to adjust levels in the range from -150 to +60 dB, in the frequency range from 10 to 20000 Hz.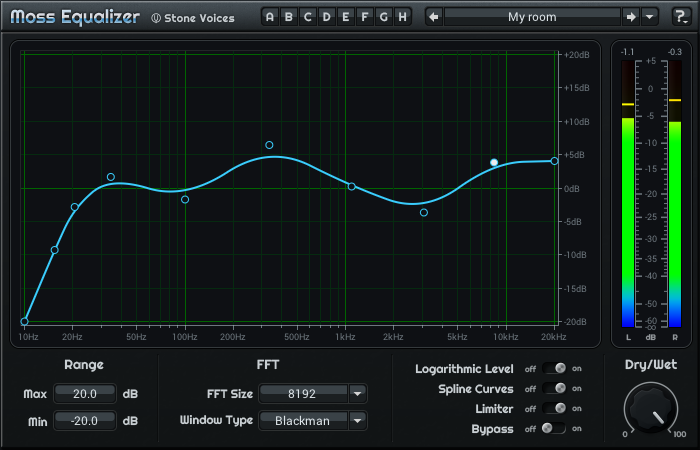 With the help of Moss Equalizer you can change the amplitude-frequency characteristic of the audio track as you like: increase the bass/treble level, remove the infrasound and the so-called "rumble" microphone, and also cut out the noise created by the interference of the 50/60 Hz AC network. We emphasize that this equalizer can perform the modeling of so-called comb filters, which allow to obtain an effect whose sound very much resembles a vocoder.
Actually, the main goal was to create a free FFT equalizer with user-friendly editing of the frequency curve, however, during the development process, we completely unexpectedly found that this plug-in can also produce an excellent effect, the sound of which resembles a vocoder.
In this case, frequency characteristics are used that resemble a comb with sharp teeth in shape, peak frequencies are tuned in accordance with musical tonalities and their overtones.
You can load the frequency response from a text file with the extension .meb (Moss Equalizer Bands) by selecting the item "Load Bands ..." in the context menu of the presets. Samples of .meb - files with characteristics of comb filters can be found in the "Bonus" folder.
Moreover, you can control the selection of the desired slot with loaded frequency characteristics via MIDI CC controller # 16 (General purpose controller 1).
We show in this demo video how to do this in FL Studio 20.
Demo video
This video also uses the Ambient Reverb 6.0 VST plugin.
---
Requirements:
Windows 8, 8.1, 10
DAW with support for VST plugins
Default Web Browser
Links:
Homepage
Download
(3.1 MB)
Download and enjoy!