Synth Master Jedi

wrote:

↑

Wed Oct 13, 2021 4:27 pm

I demoed the synth briefly and I like the sounds, but the GUI is just too small and not really readable at all. It's sharp on my system, it's just too tiny.
Maybe you found a bug. It should switch to a 2400 x 1280 HDPI resolution when we detect Retina or 4K. You see if you are in HDPI mode in the About screen.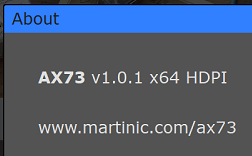 If this is not a bug and you are in HDPI mode and 2400 x 1280 pixels is too small on your system I think you will have to wait for an update before buying it. It will not be soon.