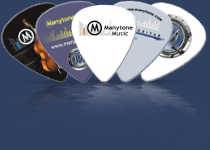 Hi ManyTone Customers
We now have a custom ManyTone Music guitar pick set available on our website in the new "Swag" category. The set features 5 different guitar picks, each with a different ManyTone image on them.
The set is available for purchase on the website for $6.95, which includes free worldwide shipping for those of you that are interested.
Also, for a limited time (while current supply lasts), we will send you a set free with any new purchase or combination of purchases totaling $48.95 or more.
Check out
www.manytone.com
for more info.
Paul