September 7th, update: Version 0.9.0 Open BETA was released!
July 9th, update: Version 0.8.0 Open BETA and MIDI Machine was released!
May 16th, update: Version 0.7.0 Open BETA was released!
Jan 30th, update: Version 0.6.0 Open BETA was released!
No registration to download:
http://www.jamorigin.com/midi-guitar/Windows-Mac/
Dec 14th, MIDI Guitar Video Preview and Competition by David Wallimann
Win a free MIDI Guitar licence -
Check it out
.
Dec. 11th, update: Version 0.5.0 Open BETA was released!
Early Access Download available to everyone. See below.
Dec. 7th, update: MIDI Guitar goes Open BETA.
Early Access Download now available to everyone. See below.
Nov. 28th, update: Version 0.4.0 BETA was released!
Nov. 19th, update: Version 0.3.0 BETA was released!
Oct, 26th, update: Version 0.2.0 BETA was released!
Sep, 3rd, update: Version 0.1.0 BETA was released!
==================
A few weeks ago
we announced the polyphonic MIDI Guitar app
and now the time has come to the
VST and AudioUnit version
with even better performance.
MIDI Guitar VST/AU/Standalone
MIDI Guitar is a software solution that turns
any guitar
into a
polyphonic midi monster
. It's 5 years(!) under development and based upon new patent-pending polyphonic pitch detection and -prediction technology that can accurately recognize polyphonic signals, such as complex chords or finger-playing with very low latency and without spurious hits.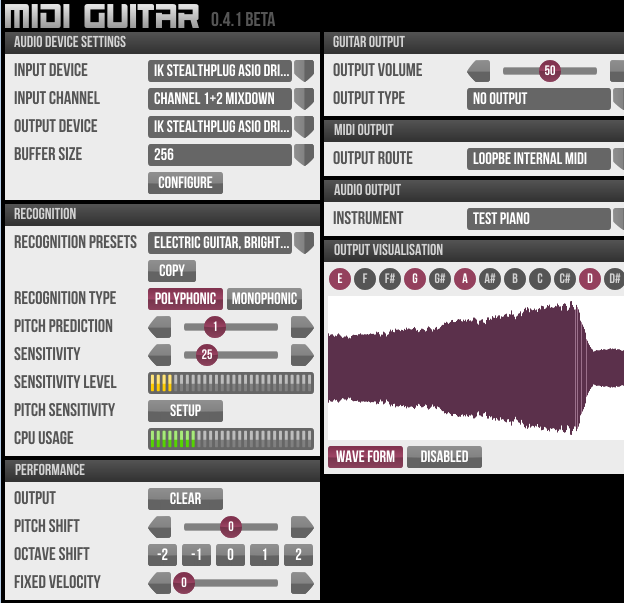 MIDI Guitar test by Paul Driessen:
http://www.youtube.com/watch?v=ygyRpEgbqY4
Beta Testing / Early Access / Download
After three rounds of closed beta testing here at KVR, we have decided to open up the gates for everybody.
However, in order for us to focus on development of MIDI Guitar, we have changed the scheme from handling each of your requests individually, to offering a free trial function that lets anyone play with MIDI Guitar and follow developments.
You can find instructions to download MIDI Guitar here:
http://www.jamorigin.com/midi-guitar/vst.html
We would like MIDI Guitar development to be driven by You users and Your needs. Please help us frame the product in this thread and share your thoughts and ideas.
Remarks to these early beta versions:
Not suited for non-real-time processing yet!
We dont take advantage of non-real-time analysis yet. Expect big improvements in non-real-time transcription in the upcomming versions.
Not really tweaked for acoustic guitars yet!
But let us know how it goes.
You gotta be in standard, absolute tuning for now.
Some people have reported problems with some humbucker pickups.
Please let us know your experience with humbuckers.
Some DAWs cannot record or route MIDI Guitar's MIDI output.
Tell the DAW makers. It's mostly a problem on Mac DAWs not supporting VSTs. The standalone MIDI Guitar application should work for any DAW. (On windows you need a virtual midi driver such as loopMidi, loopBe1 or midiOX - free software).
More information can be found onthis site
F.A.Q.
Nice product, how can I get involved?
Tell us what you want MIDI Guitar to be.
Let us know if you can help making video or audio material of MIDI Guitar in action or can help with UI re-design.
Will it transcribe a bass or other instruments?
No. It is heavily tweaked for guitars. We will consider other instruments later.
Can I use it to post-process and get MIDI out of recordings?
Yes, but have in mind that it will not take advantage of non-realtime analysis yet. It's also heavily tweaked for clean single instrument guitar tracks, so the general Audio-To-MIDI VST is a different kind of product that we will consider next.
Is this as good as it gets?
No, its not - we have still got headroom for improvements. The current version of MIDI Guitar without any prior knowledge about your type of guitar, pickups, intonation or playing style. It also runs on a tight CPU budget, even on an iPhone (although with higher latency).
We hope you have fun with it!
- JamOrigin