We are glad to release
Blue Cat's PatchWork 1.3,
available for download
right now
!
This new version mainly brings
Audio Unit hosting
for Mac users, as well as copy/paste enhancements that have simplified moving plug-ins in the signal chain or between applications. Several compatibility and performance improvements have also been included in this new release (full list below)
As usual, existing customers can download the updated version from the same page as the original full version.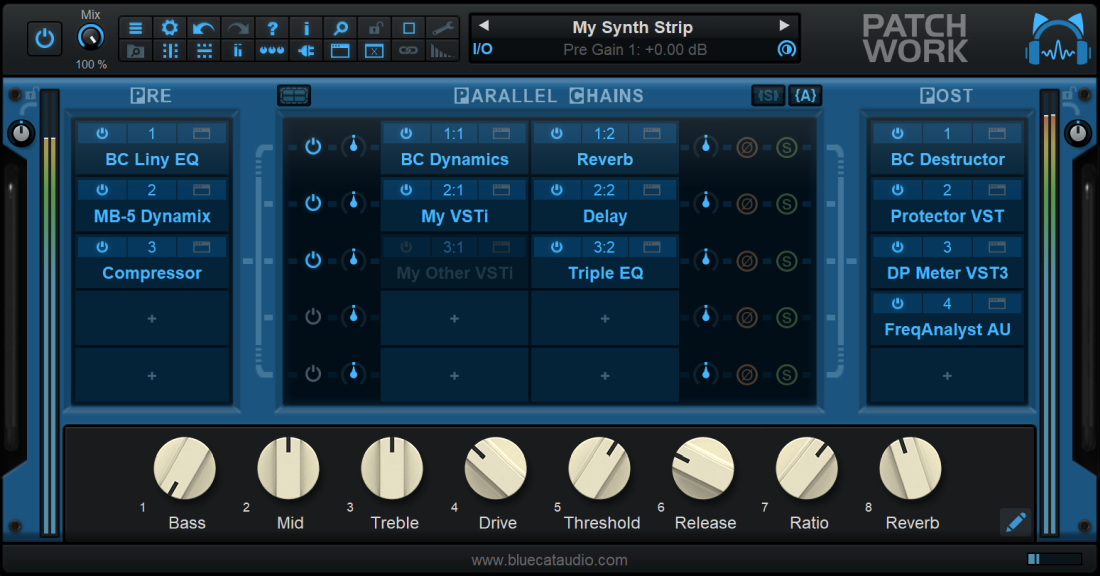 New Features:
- Audio Unit hosting support: Audio Units can now be loaded into the plug-in on Mac.
- Plug-ins can now be cut from a slot for cut/paste operations.
- Plug-ins can now be pasted into a slot with their params map.
Improvements:
- User interface loading or resizing is now up to 50% faster.
- Reduced the size of windows installers.
- Minor layout changes.
Fixes and compatibility improvements:
- Fixed undo/redo incompatibilities with some plug-ins.
- (Mac) Fixed random crashes when unloading some plug-ins on Mac (Waves plug-ins for example).
- (Win/AAX) Fixed shortcut to user manual in start menu.
- (AAX) Fixed inaccurate transport information reported to sub plug-ins when stopping playback in Pro Tools.
Enjoy!