Please welcome
Blue Cat's Plug'n Script 3.3
, the ultimate tool for DSP DIY!
With many new features to build your own custom user interface (GUI) and export it with plug-ins,
KUIML 2.7 GUI programming language support
, and many other improvements and fixes, it is a recommended update!
The update is
free for existing customers
(from the link received by email upon purchase), and new customers can get
Plug'n Script
at a special
introduction price (20% off)
, either alone, or as part of the
Crafters Pack bundle
until July 10th.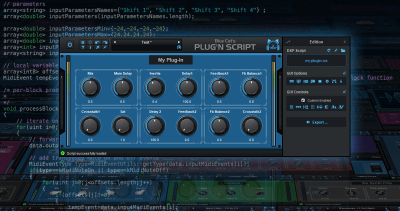 New in Blue Cat's Plug'n Script 3.3:
- Custom graphics and resource files are now be copied when exporting scripts as independent VST, VST3, AU or AAX plug-ins (SCRIPT_DATA_PATH folder).
- New version of the KUIML GUI programming language (2.7), with new widgets, new mouse and keyboard events handling features, system script function to execute shell commands and more.
- New version of the Angelscript Engine (2.34).
- New high resolution graphics for knobs.
- New background mode ("None") to create entirely custom user interfaces.
- New icon for the Plug'n Script Application.
- Reduced disk footprint.
- Fixed crash in exported VST3 plug-in when using input strings in scripts.
- Fixed crashes when using build-time script in KUIML widgets.
- Fixed gui.capture objects that could be exposed twice in KUIML objects.
- Fixed png or svg images alpha mask not properly loaded (was ignored)
- Fixed ignore_missing attribute for LOAD_FONT that still triggered an error.
- Mac application now fully supports dark mode on Mac OS Mojave and newer.
- Mac: fixed settings panel rendering issues in dark mode on Mac OS Mojave and newer.
- Mac: Fixed keyboard not responding in registration panel in some host applications (LUNA, Garage Band...).
- Mac: Fixed demo version that could hang Logic when reloading projects using the plug-in.
- Mac: fixed Retina scaling issue on buffered widgets in apps built with Mac OS 10.14 SDK and newer.
Enjoy!