I thought I'd make a thread describing the Guitars I'll be using for the Loops for the Group Buy Products. If you don't care about guitars you probably will not find this interesting
I bought a couple of basses over the last few months specifically to make Reanibass. The only Bass I had was an old Stagg which to be fair has seen quite a bit of recording, but it wasn't in any way a good Bass. One I bought the Squire I decided to make it into a fretless which actually went well in the end and it ended up being an interesting Bass which I've given to a friend of mine since getting hold of the Revelation.
I've never really messed around with modifying Guitars until this, and I've since got the bug for it and I've been messing around with my other guitars a fair bit, and become a bit of a guitar geek.
The one thing I really wanted to do for the Group Buy was to make a Fretless 6 string Guitar and so I was keeping an eye out for a cheap Guitar to convert. I honestly had no idea if it would be a worthwhile instrument or not and so didn't want to spend too much on a guitar. First I got hold of an AXL Strat, but once I played it and really liked it, there was no way I could do it... So I started looking for a cheap neck to use instead of the AXL neck so at least I would still have it.
I then started thinking, what if the neck is really nice and I can't bring myself to defret that either? So I figured the only solution to the moral crisis was to find a cheap new guitar that is bound to be something I don't care about attacking. So I found a Gear4Music guitar on sale for 49.99 and that became my victim. It's one of the Flag ones, which isn't my type of thing at all, which I thought would make it even easier. I went for Germany, being a Krautrock Fan.
The Fretless Guitar Project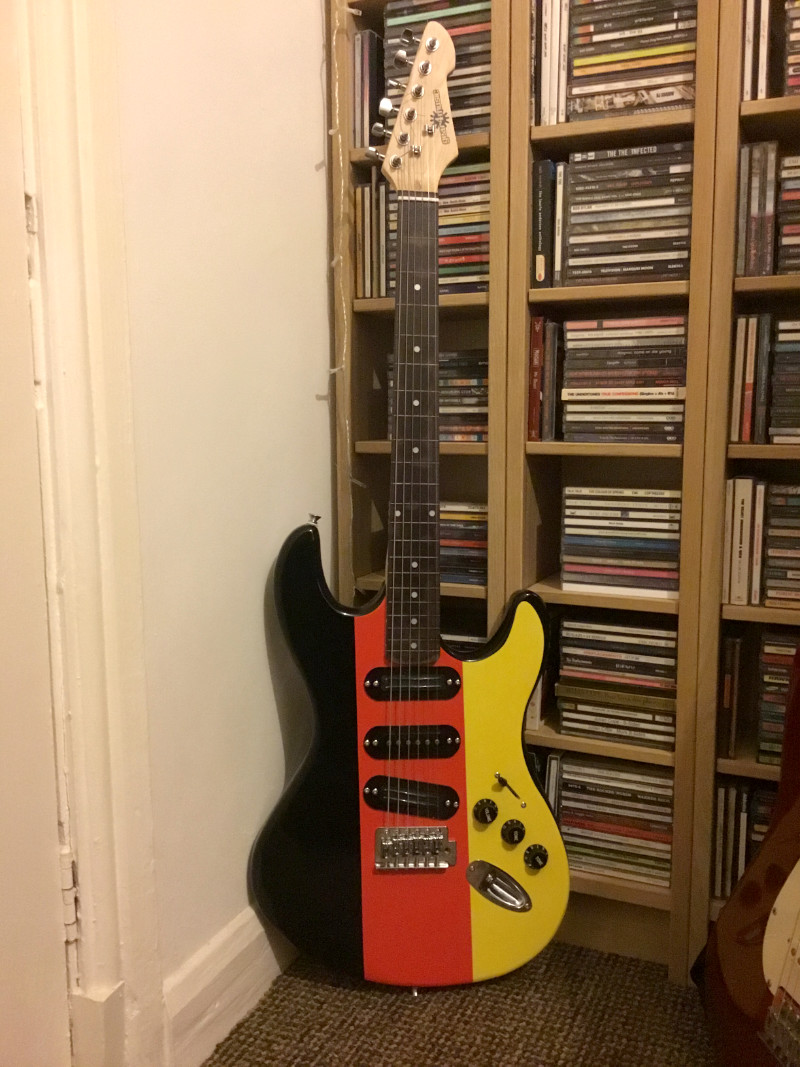 It's without a doubt the lightest guitar I've ever played. It's mean to complain about a guitar that costs so little, I mean the price was so cheap, so I'm not going into the issues I had with it. It didn't matter to me anyway as I was hacking it. The 1st thing I did was replace the pickups with a couple of the Chinese Hot rails that get raved about (they're under £10 from Amazon). They are basically Humbuckers in a single coil size with Coil Spit capabilities. I also bought a push/pull pot for Coil Splitting. I've since routed the Neck Pickup split coil through the scarificed 2nd tone pot so that you can mix the amount of the second coil. It's the wrong kind of Pot though and so it goes from 0-100% in the 1st quarter turn. I can verify that the pickups sound great, but they are not long enough for the slanted Bridge position as they don't pick up the E's correctly. Next time I take off the strings, I'll be replacing that but keeping the Neck one.
Next I set about defretting, I use some thin balsa wood (I know...it's all I could get quickly at the time) to give a light look to the frets. If I do it again I would get some proper veneer for it, the balsa was 1mm and it was too thick so took some hours to get it in. I probably should have just used wood filler really. I used Super glue to surface the fretless earlier in the year which didn't go too well due to it turning white in places. I ended up sanding most of it off and doing it a second time. It's apparently caused by moisture but I also suspected that the glue I used was too thick and so got some super thin glue for this.
But, it also started to go white in places and so I had to sand it back, which has ended up with a mottled effect where you can see the original bits that didn't get fully sanded. I had the door open for the fumes, and thought it must be moisture in the air and so got a fan heater on to dry the air and closed the door. Also holding the neck in front of the fan heater did reduce any white blotches so I think next time if I use CA, I'll get hold of a heat gun.
I probably got about 12-15 coats on and started sanding through the grades and it's a nice smooth surface to play on. I may put some more coats on down the line, but I'm pretty happy how it plays at the moment.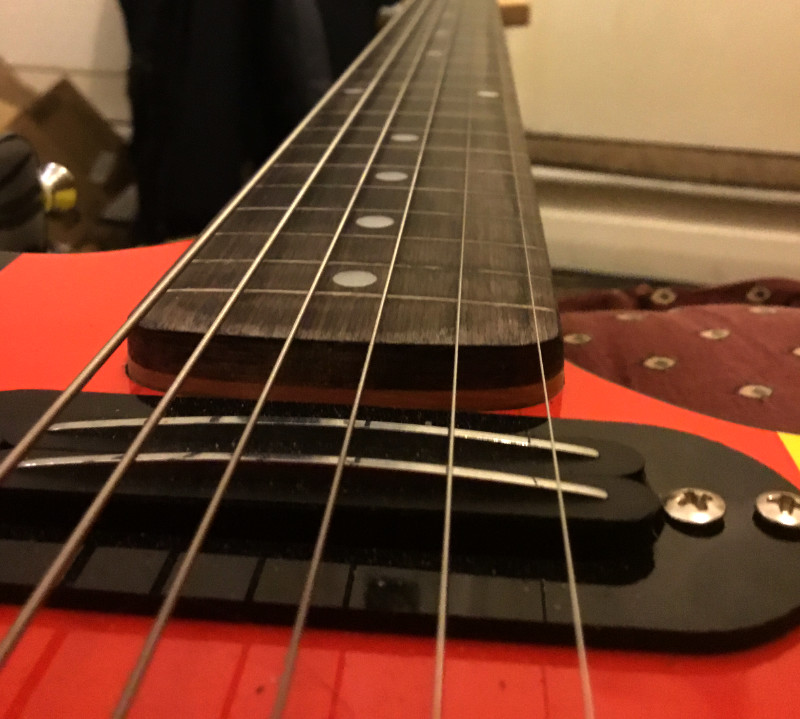 Finally when back together I've reduced the nut slots to around 1mm, they could probably go a bit lower. I've set the action very low and as a result the lower strings have a really nice fretless mwah going on, and the higher strings when plucked sound like an Electric Sitar. Using a plectrum gives a more guitar vs Oud like sound. When mute plucking it also does a pretty good emulation of plucked double Bass/Cello and Violin. Soundwise it's amazingly versatile!
As for actual playing, obviously it being fretless you always get that slightly out of tune sound which I really like. The Reason I've always liked fretless Bass is due to Derek Forbes who more or less played normal Bass lines on a fretless as opposed to being slide intensive, and I always think it gave a unique character to the music.
Overall, I'm really pleased with it, definitely a worthwhile project and a keeper as an instrument. I may even do it to a better guitar at some point and hopefully improve on the look of the neck, although I really like the light weight body, the Westone weighs a ton.
The other Guitars I have:
Westone Thunder 1A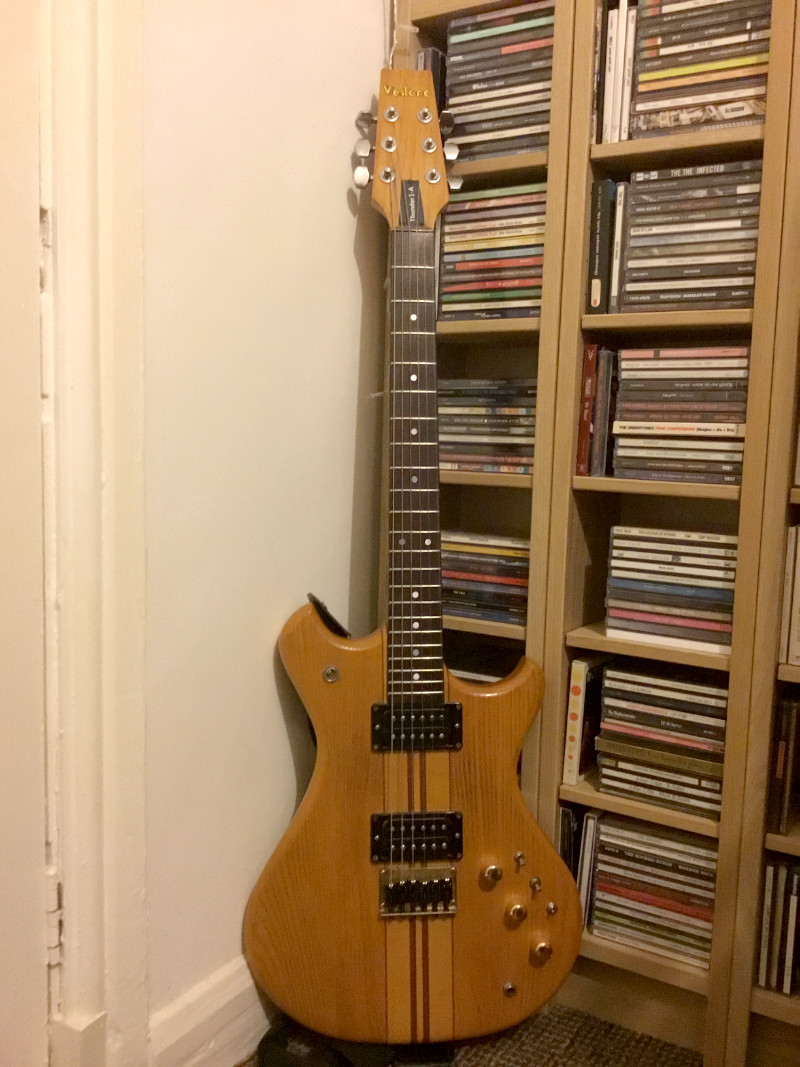 I borrowed one of these in 1988 for a few months and absolutely loved it, so I have always wanted to get hold of one. The prices went through the roof for a few years and so I just had a look every now and then and managed to get one for a good price earlier this year. It's a fantastic Guitar and has it's own unique sound, as well as an Active pickup which can drive nicely from the Guitar. The only minor issue I have with it is that the top E string is slightly too close to the edge, which isn't a major issue but I bought some different slightly thinner bridge posts to try out which have actually made it worse. I have Elixer strings on it and so don't want to risk snapping them and so they stay for now, but next time I restring it the original posts are going back on. looking at pictures on the nest it seems it was common to most of the thunder 1s.
Incidentally, apparently the Bridge is made by Gotoh, and the exact same Bridge is still sold today (this guitar is 1983). I read that the owner of Gotoh apparently designed the thunder guitars.
Ibanez SA160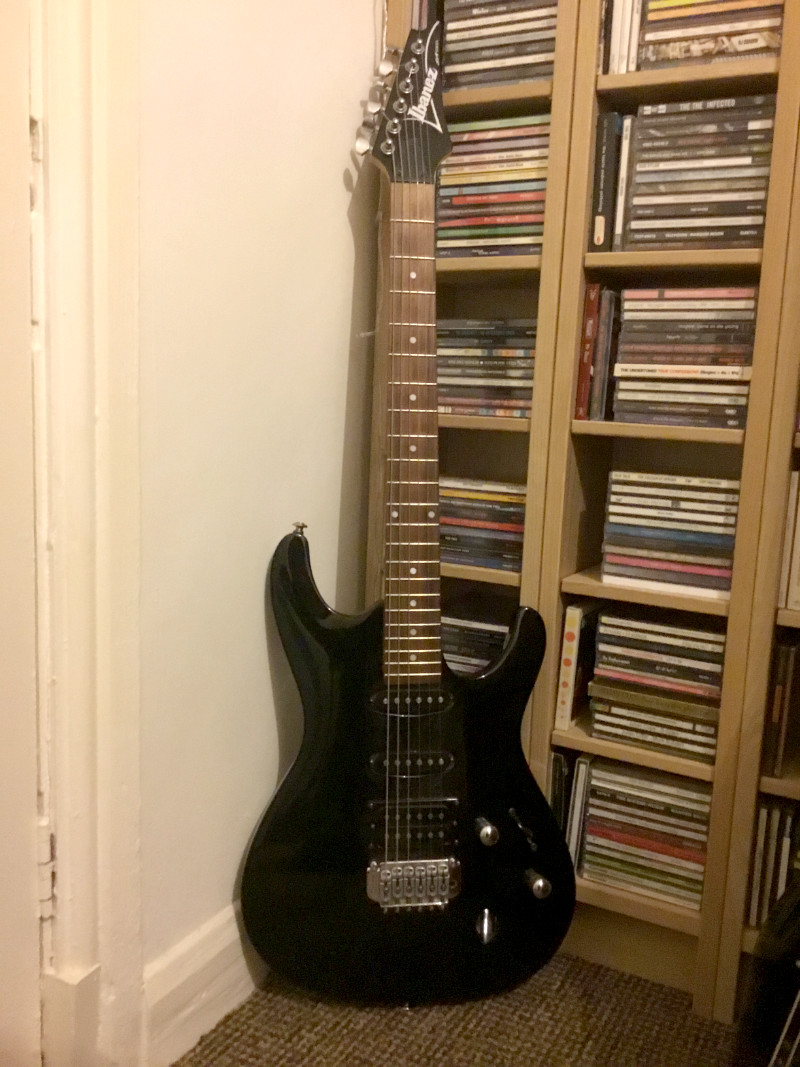 I bought this new around 2001 and I have a Love/Hate relationship with it. It's actually a really nice neck to play and sounds fine, but it just lacks character. I've almost sold it a few times, but then I play it and like it again. I think I'm going to get some Entwistle Pickups for it at some point, which may be what will take away the hate part of the equation. I mean soundwise it's a versatile guitar, and I've used it on everything I've done, but I don't get as much pleasure from it as the Westone.
AXL Player Special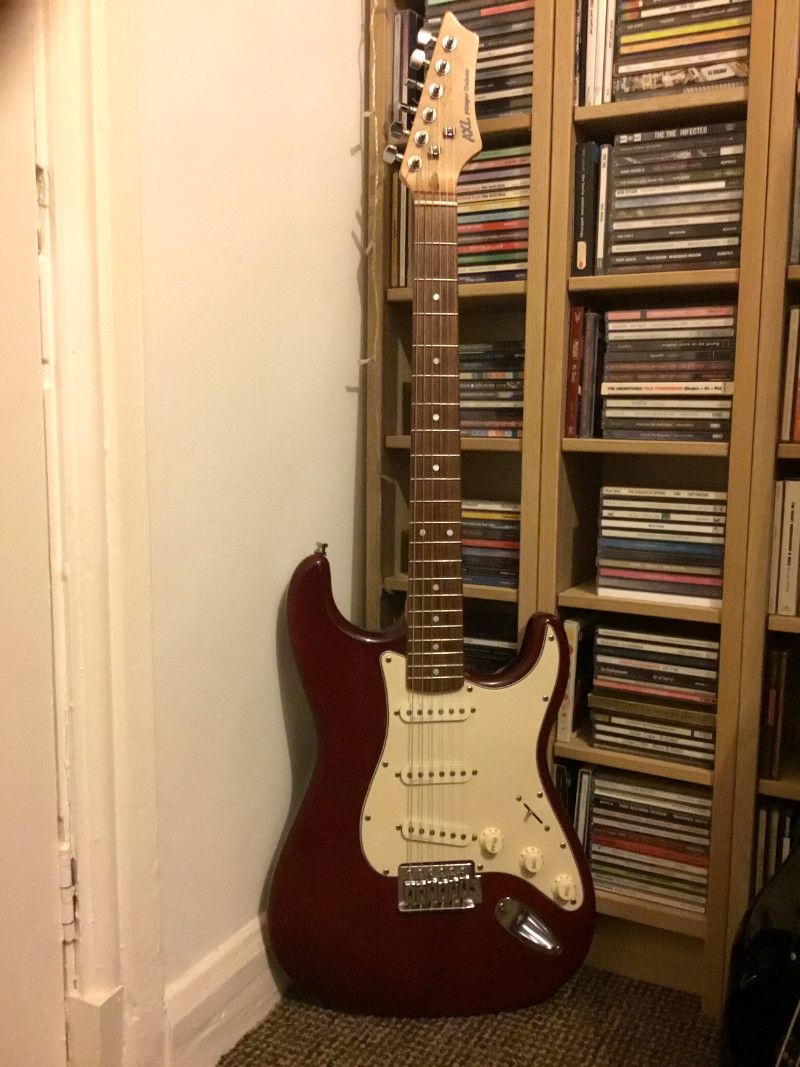 This is the one I bought to make into a fretless, but I actually really like it. It needs some work, mainly the nut lowering and the frets need levelling properly. I had to file the top 2 frets to get it to play properly. It's a very bright guitar, much brighter than the others except when the active pickup is used on the Westone. I might get a capicitor to darken in a bit, although I'm enjoying the brightness at the moment and it's certainly stratty sounding.
Fender Squier Affinity PJ Bass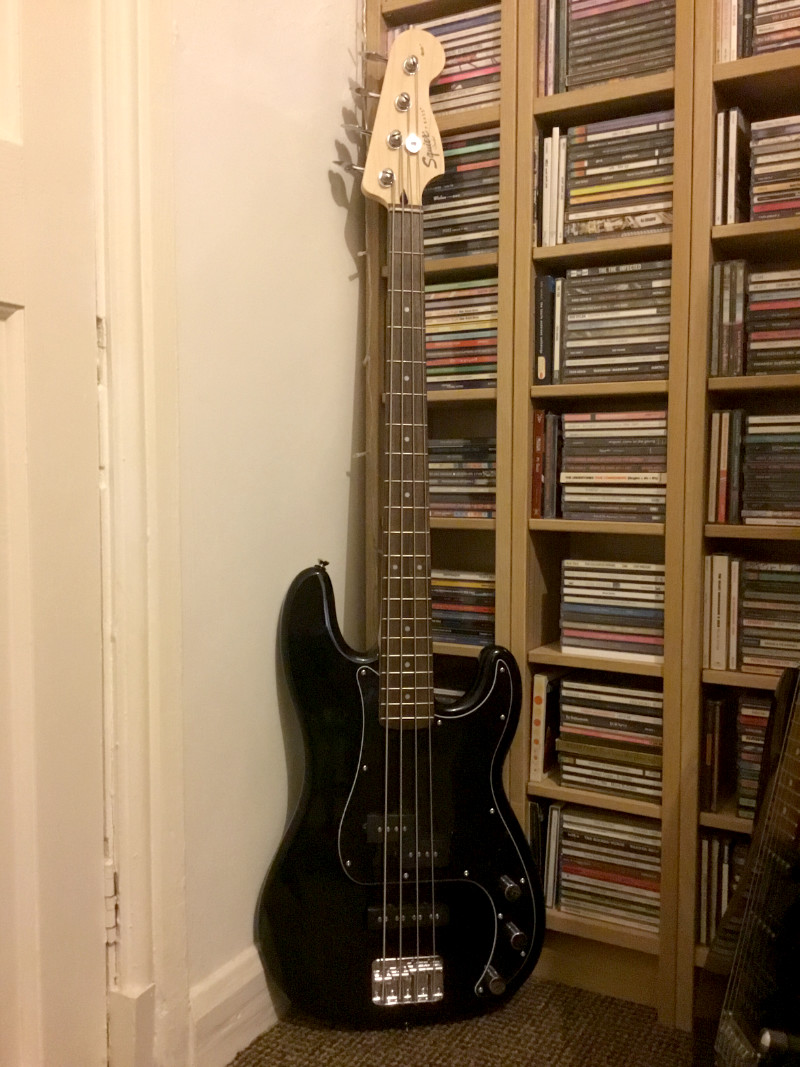 First one I bought was this, I got it new and thought it would be a decent enough Bass but it went far beyond my expectations, it sounds great and is very nice to play.
Revelation Fretless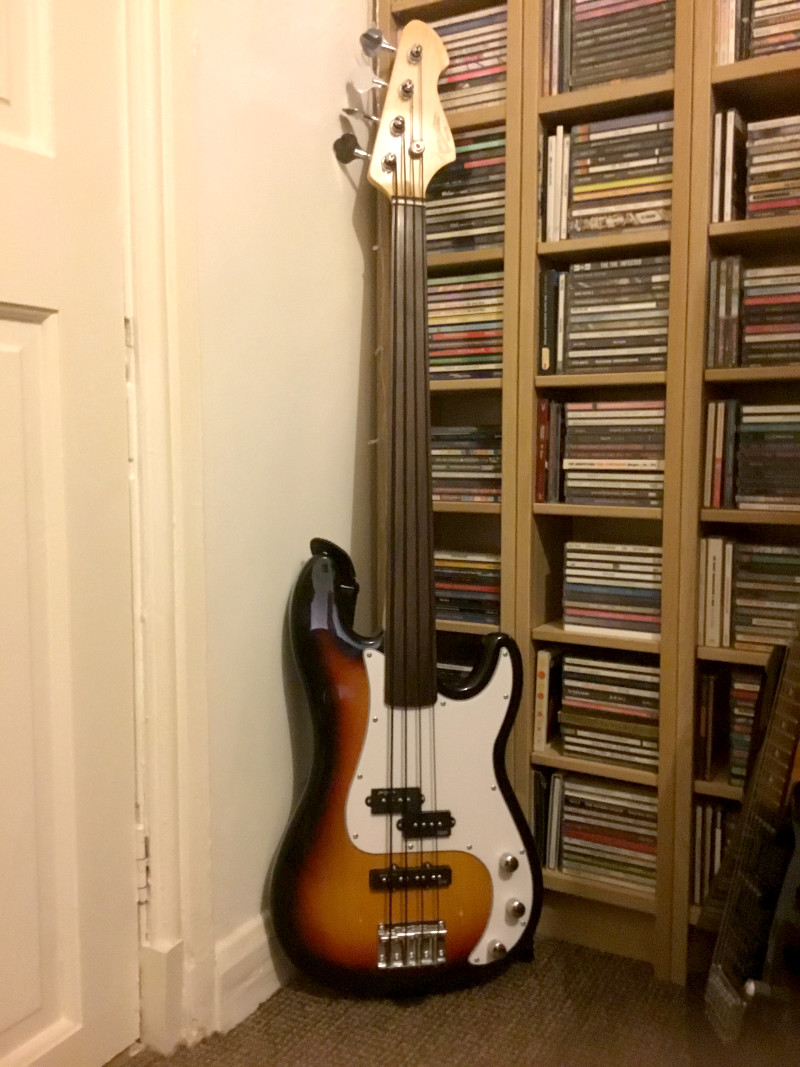 I bought this second hand and got a great deal, especially considering it has Tape Wound Strings which were something I was thinking about for my converted Fretless. The photo doesn't do it justice, it's a really nicely made Guitar. I've been keeping an eye out for a standard Revelation Guitar, one of the Jazz master clones which is how I found this on Ebay. It's so nice to play and I love the tape wound strings, although they really just have a single tone to them, but it suits my taste. It does have a couple of issues. When using the Jazz Pickup it steals all of the Bass away from the D & G Precision Pickup, unless you find a sweet spot on the Knobs. The J Pickup works fine on its own as do the Precisions, its just when they are blended. I will investigate it one day, but it's not really an issue that bothers me that much. There's also a small dead spot half way up on the G string. If anyone knows what the likely cause is plaese let me know, I'm pretty knew to Guitar Wiring. Apart from those 2 issues it's fantastic and convinced me I need one of their Guitars as well.