MenuMagic is the plug-in management tool specially designed to work with Cakewalk's Sonar DAW. Its powerful toolset enables you to analyze, fix issues and organize your plug-ins (VST, VST3, DX, 32-bit, 64-bit) into menus quickly and easily.
MenuMagic's currently implemented features.
★ MenuMagic v2 beta update v1.9.8.15 has been released!
This update is free to registered users –
use your personal download link to download the new v2 beta
.
Major Changes in MenuMagic v2 (beta build 1.9.8.15) 
While there has been some enhancements the focus on this release has been to address know bugs.
Main issues addressed shown below (images show mainly problems not the fixes).
Note:   You can back up MenuMagic by copying the whole MenuMagic program folder, or zipping it up.
If you want to install MenuMagic on another of your computers and keep the same configuration just copy over the MenuMagic program folder (after you install the program).  You'll still have to register it but your data will be intact!  
Initial Configuration screen
The first time MenuMagic runs or after a Global Reset the Initial Configuration screen comes up.
This enables you to turn off AutoCategorization & Name Cleanup.
Bug was been found where these settings are ignored.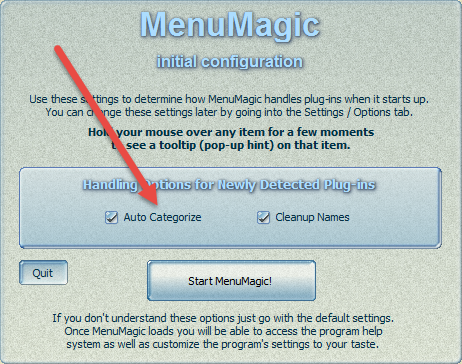 Status Tab
if Sonar is Sonar X3 or Sonar 2015 - turned off Status tab PIL Warning that would show up if the # of plug-ins surpassed the old Max plug-in limit (don't have image).
Categorization tab
count on Plug-ins would be 0 until you changed filter setting
count on Category would be 0 until you changed Category
when deleting Categories

if AutoCategorization was on – some new Cateogories would get autofilled from deleted Categories (kind of like getting mail for previous occupant even though old & new names are different).
If AutoCategorization was off – one of the new Cateogories could get autofilled from deleted Categories (one of the memory slots was never cleared due to indexing error).

Both of these issues should now be fixed.
v1.9.8.15
Fixed a bug that could cause some plug-ins (dupes, plug-ins that share the same source file – like Waves, etc.) to shift categories after a session was saved.
Tools tab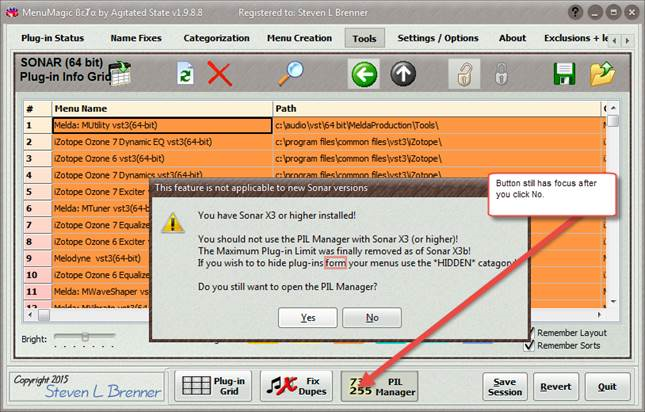 Fixed button focus issue as described in image.
Plug-in Info Grid
Fixed bug where you couldn't save your custom grid arrangements
Changed icon for the GridPrint button (see above image on upper left) to something more pertaining to its function.
GridPrint button
DupeFixer
– Algorithm update
- no longer classifies Shell plug-ins (WavesShell and certain DX plug-ins) as dupes see problem in image.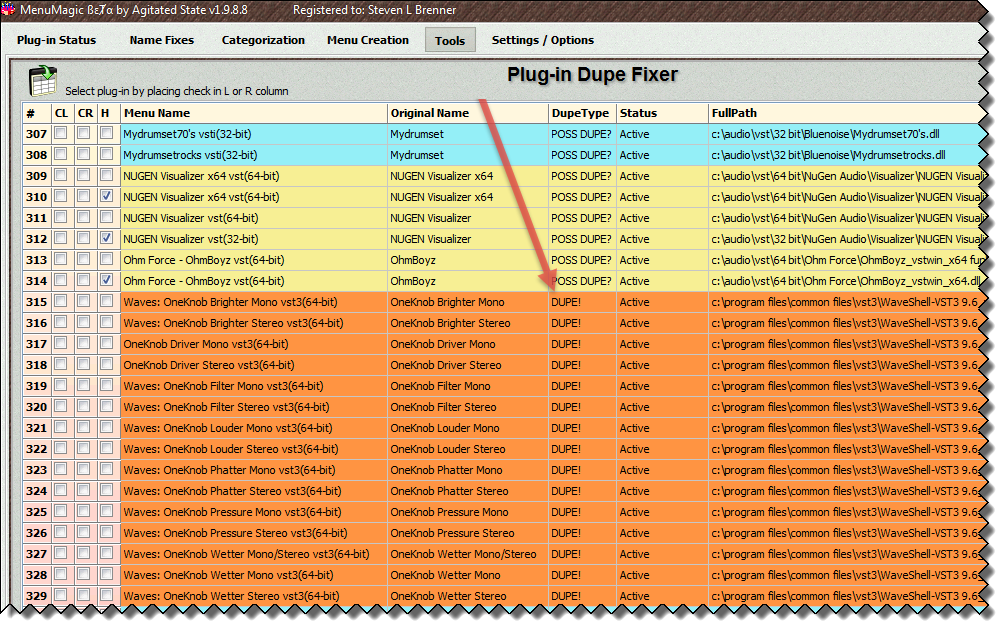 - now marks certain dx, vst, vst3 combinations as possible dupes when Original Name is the same.
Menu Creation tab / Save Plug-in Layout Menu
Changed default from all Layout Usage Types being NOT assigned (as shown below)  to all items assigned.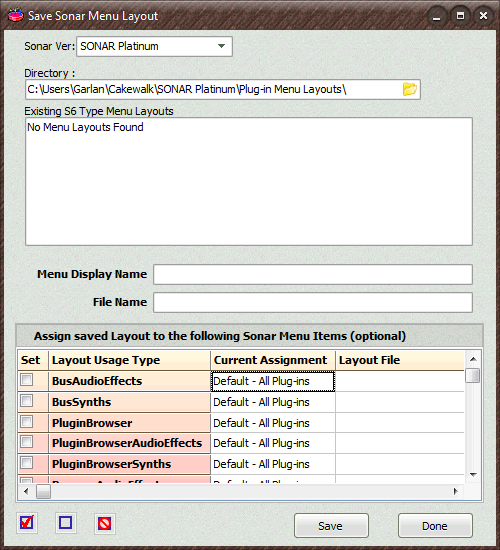 Other stuff
Redesigning the DupeFixer is part of the next phase.
In this build I tweaked the algorithm to fix a couple of long standing issues and added a GridPrint button on upper left (like the one in the Plug-in Info Grid) so at least you can print out your dupe list.
GridPrint button
The program Help has not been update because of planned changes taking place in the next 2 builds!
Stay tuned!
Best regards,
…Steven
Currently MenuMagic is discounted 50% until v2 is released!
$24.95
regular price $49.95
MenuMagic Purchase link
Check it out - money back guarantee. See purchase link for details.
Buy now and you will receive the latest version of MenuMagic, access to beta versions and receive a free upgrade to version 2 when it is released.