MenuMagic v3 is out! Click here for MMv3 info!
click here for v2.3.1 info!
★
MenuMagic v2.2 has been released!
This update is free to registered users – use your personal download link to download your copy of the new v2 MenuMagic.
Newsletter with announcement has been sent to all registered users. If you haven't gotten your email please check your spam or trash folder.
This is a recommended update. Bug fixes and improvements should improve your MenuMagic experience.
Sections below:
• Notable Changes
• Known issues

Notable Changes:
Multiple areas:
• Bug fix: Improved handling of VST3 plugins to prevent them from losing their categorization.
This could happen
If you upgraded your Waves plug-ins from v9 to v10.
If you moved/changed your VST3 plug-in locations.
If plug-ins were deleted then re-added to Cakewalk's VST database
- for example if you ran Cakewalk's VST Scanner with your iLok not connected than later ran it later with it connected.
Status tab
• Fixed issue when expanding Status Grids where 'Grid #' button remained floating on screen when grids were expanded.
• Fixed issue where Status Grids were being reloaded twice for every screen update.
Categorization tab
1. New! Can now list plugins either by plugin name or by vendor name and setting is remembered.
2. Clicking on a plugin name now shows Vendor info in detail information under Categories panel.
3. New! Added button "Categorize by Plug-in Vendor"!
Note: This is explained in detail in a subsequent posting.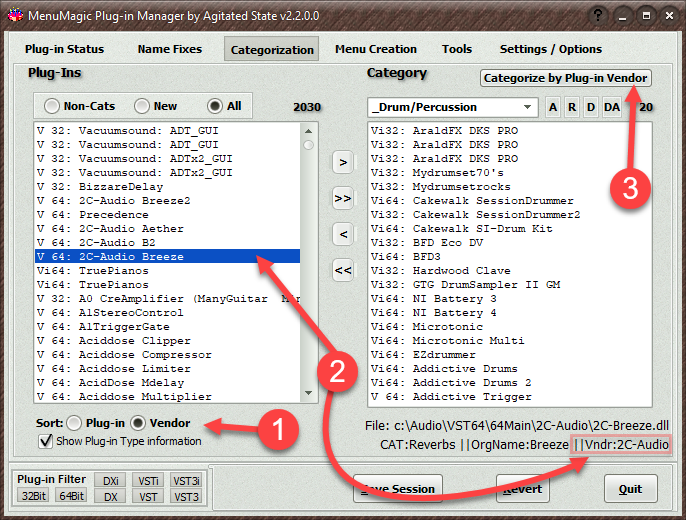 Name Fixes tab
1. Fixed bug in Name Fixes where you lost changes if you resorted the plugin list by hitting Shift-Right-Click before saving changes (i.e. not saved by clicking on Accept Fixes).
2. Can now list plugins either by plugin name or by vendor name and setting is remembered.
3. Clicking on plug-in name now shows Vendor info in detail information shown under plugin list.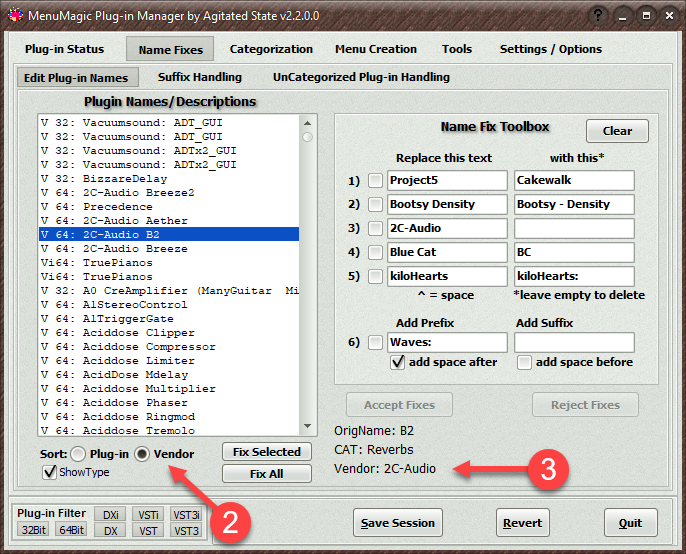 Menu Creation tab
• Rewrote major sections of code handling Menu Creation plug-in menu tree to resolve various issues with rearranging plugin menu tree and make drag'n'drop operations behave more intuitively and eliminate quirky behaviors.
• Fixed old bug on MenuCreation tab where if you didn't have the root folder selected/highlighted when you saved your plugin layout menus that they could be corrupted.
• Fixed bug that allowed you to drop folder into another folder at plugin level (level containing actual plug-in references).
This could cause menu folders to disappear in Sonar/Cakewalk.
- For example if all plugins in that folder were VSTi Cakewalk/Sonar won't show the containing folder in the FX bins thereby hiding any subfolders.
• Fixed reverse sort bug that under certain circumstances happened when moving one folder into another folder if the folder being moved contained subfolders.
Settings/Options tab
VST Scanner panel
• Fixed bug where MenuMagic could remain minimized on Windows Taskbar after running VST scanner.
• Bug fix: When you click "Reset All VST Plug-ins" - scanner is now launched after Cakewalk's plugin database is reset.
Previously you had to manually launch the VST Scanner as a follow-up action and could have issues if you failed to.
• Launch VST Scanner – you can now easily run the scanner sequentially multiple times.
Not a biggie but if you're like me and always run the scanner at least twice it does save on mouse clicks.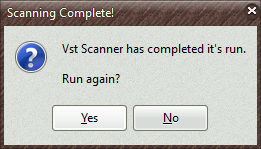 Settings panel
• If MenuMagic is set for CbB the PilManager settings are now hidden.
This setting was only relevant to Sonar versions before X3.
Tools tab
• If MenuMagic is set for CbB the PilManager button under bottom panel under Tools tab is now hidden. This feature was only relevant to Sonar versions before X3.
TrayIcon app
• Enhanced settings to run
o VST Scanner
o VST then MenuMagic
can now easily run the VST Scanner multiple times by itself or before launching MenuMagic.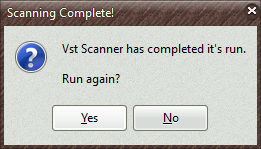 • Removed Launch Cakewalk menu item. This may or may not be upcoming feature but the placeholder in the menu was accidentally made visible on a previous release and besides it was showing "Launch Cakewalk 32 bit" which does not exist.
Many other tweaks, bug fixes, etc.
Known Issues:
• Built in Help documentation does not contain information related to this release.
Sorry but new changes require that many screen shots be redone and rather than hold up release for another couple of weeks we have decided to release MenuMagic without it.
Best regards,
…Steven